Carestream's latest innovations
At the European Congress of Radiology (ECR) annual meeting in Vienna, Carestream Health will demonstrate its latest digital imaging and IT solutions. These include its new RIS/PACS & SuperPACS Architecture. The new PACS has an embedded reporting module and a convenient graphic display for "at a glance" viewing of available patient records and data, Carestream reports.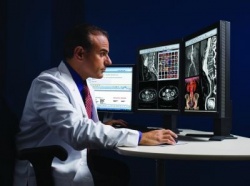 The new radiology information system (RIS) supports a secure Web portal enabling patients to reschedule an imaging appointment, and centralised scheduling for multiple imaging sites. 'Time-saving new reporting features include voice driven commands, structured reporting, standard answers and the ability to copy content from prior reports,' Carestream adds.
The company's innovative SuperPACS Architecture, which links multiple vendor RIS/PACS, will also be displayed. 'This enables facilities to create workflow efficiencies through a global work list across the enterprise, and its
PowerViewer dramatically improves radiologist productivity for viewing 3-D exams,' the manufacturer says. In addition, a vendor neutral archive for images and data that is available in on-site or off-site configurations will be seen. Medical Imaging The new Carestream DRX-Evolution will be there, too. This marries the flexibility of the industry's first wireless, cassette-size detector with the productivity of a fully automated DR suite will be there, too.
'Because the Carestream DRX-1 detector offers virtually unlimited positioning and eliminates the need to move a patient around a fixed detector, healthcare facilities are able to improve efficiency and enhance patient care,' the firm reports. A work in progress to be demonstrated is an innovative retrofit kit that aims to enable users to upgrade
-- quickly and easily, the firm says
-- several vendors' mobile X-ray generators with its wireless, cassettesize Carestream DRX-1 detector for immediate digital image capture.
'The kit is a very affordable way for healthcare providers to convert conventional mobile X-ray systems from CR to DR and achieve valuable gains in workflow. The lightweight, wireless and durable DRX-1 detector can improve productivity and make positioning more comfortable for critically ill patients compared to systems with heavier, tethered DR detectors,' Carestream points out.
More on the subject:
More on companies: