Carestream Health with new PACS project in Belgium
Carestream Health has won three contracts for Picture Archiving and Communications Systems (PACS) to view, manage and store digital mammography images for healthcare initiatives in the French-speaking region of Belgium. The PACS will meet the needs of a regional programme for mammography screening, an extended provincial programme for mammography screening within a mobile environment and a private radiology clinic.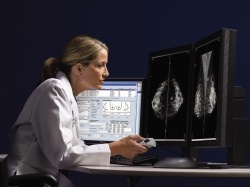 Centre Communautaire de Référence (CCR)
The regional Communauté Française mammography screening programme is being implemented in the French-speaking region of Belgium to image women aged between 50-69 every two years free of charge. In the first phase of the project, CARESTREAM PACS will be installed together with a high resolution diagnostic mammography workstation at the CCR and connected to ten reading centres across the region. Following a first reading by a radiologist, each centre will send their mammography images via a secure connection to the CCR for a second diagnostic reading, a process that meets European guidelines stipulating that each mammography image must be read independently by two radiologists.
The PACS has capacity to store all mammography studies for five years, estimated at 60,000 from the first ten reading centres, and will fully integrate with the distinctive Mammorias RIS specifically installed to manage the regional screening programme.
As the programme develops over the next five years it is anticipated that up to 60 first reading centres will be connected to the central CCR PACS system.

Province de Liège
As an extension of the regional programme, the Province of Liège is additionally inviting women aged between 40-49 to have a free-of-charge examination annually at two specially equipped mobile vans.

Carestream Health PACS Supports Mammography Imaging in Belgium / page 2
To facilitate image capture, each vehicle will be fitted with a KODAK DIRECTVIEW Elite CR System with Mammography Feature. This feature enables two-up image printing aligned with the narrow chest wall, support for the exchange of image information with digital mammography and RIS/PACS systems from other vendors and reduction of digital artifacts at the skin line. The CARESTREAM PACS and diagnostic workstation will be installed at the central Service des Cars facility to support a first reading by radiologists and store all mammography studies for a period of five years. The second reading will be undertaken by the CCR, in line with the programme of regional screening.

Centre de Médecine Spécialisée
Plans are underway to transition this private practice to a digital workflow with a CR platform, central PACS solution and diagnostic workstation. A KODAK DIRECTVIEW Elite CR system with Mammography Feature will capture and store images for five years. In the first phase of transition, radiologist Dr. T'Sjoen will read studies on the diagnostic workstation and either burn the images onto CD or print film for referring physicians. In the next phase, the aim is for referring physicians to directly connect to the PACS to view studies and review
Dr. T'Sjoen's report. Future plans for the practice also include participation in the regional Communaute Francaise Mammography Screening programme.
"Carestream Health's digital mammography solutions are increasingly meeting the demands of Belgium's range of screening programmes," said Ignace Wautier, General Manager of Carestream Health in Belgium. "We have a full portfolio of solutions, including flexible CR systems that are renowned for their productivity and ease of use and CARESTREAM PACS that can be configured to optimise workflow and meet growing or changing needs. Specialised mammography tools are also available with our dedicated mammography workstation to enhance efficient diagnostic reading."

More on the subject:
More on companies: