Carestream Health "Medical is Imaging Company of the Year"
Based on its recent analysis of the medical imaging market, Frost & Sullivan recognises Carestream Health, Inc., with the 2010 North American Frost & Sullivan Company of the Year Award. By implementing successful product and business strategies across the two pillars of its medical imaging business - digital/computed radiography (DR/CR) and imaging informatics - Carestream Health has achieved healthy organic growth while expanding its presence in the global market.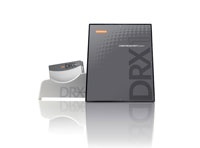 Carestream Health has gained share over its competitors by being quicker, as well as more effective, flexible and proactive in adapting to the changing radiology and healthcare IT landscape. Throughout a challenging year, Carestream Health continued to develop solutions that are more innovative and more affordable, while still maintaining high-quality customer service.
Carestream Health achieved the pole position in the highly competitive U.S. medical imaging market by capturing an impressive 14 percent combined DR/CR market share in 2009. The company owes a large part of this success to the timely introduction of the DRX-1 detector panel. This solution, which provides a cost-effective and rapid upgrade path to DR, without the cost of replacing an x-ray room, is an appealing proposition in the current capital-constrained environment. In fact, after less than a year on the market, the DRX-1 already has caused a significant increase in productivity for the current users of analogue X-Ray and CR.
The company followed this up with the launch of a series of integrated equipment, the DRX-Evolution product line, which augmented Carestream Health's rich radiology portfolio. Better than ever before, the company caters effectively to every segment of the market where it can meet almost any budget and workflow requirement.
"Another driver of Carestream Health's continued success is that its solutions dovetail very tightly with imaging IT, which is another strategy the company puts in action to constantly advance the workflow and productivity of its solutions," says Frost & Sullivan Research Analyst Senior Industry Analyst Nadim Daher. "Carestream Health has also created healthy synergies between its imaging equipment and imaging informatics groups, which are accelerating the company's progress in medical imaging."
The company's commitment to enhancing productivity has further strengthened its leadership in customer value. This dedication to improving the efficiency of its products has helped the company stay ahead of the curve and even aid its growth in the radiology information system (RIS)/picture archiving and communication systems (PACS), advanced visualisation (3D), information management, IT middleware and related healthcare technology markets.
The company's modular RIS/PACS offerings come loaded with value-added features such as native 3D imaging capabilities, navigation tools, voice recognition, results reporting and enterprise communications. They support various deployment and financing models such as the hosted imaging IT solutions and data centre services offered through its eHealth Managed Services solution.
A notable recent product launch in the imaging informatics space is the highly flexible SuperPACS architecture, a powerful solution for distributed and multi-vendor imaging environments seeking to aggregate or federate the imaging IT platform to drive cross-site productivity. From a business standpoint, with SuperPACS, Carestream Health caters effectively to otherwise under served niche and emerging customer segments such as radiologist groups, physician practices, teleradiology, as well as hospital-based specialists and rural healthcare facilities.
The company is attentive to the needs of its diverse and widespread customer base and it strives to exceed customer expectations and competitive benchmarks under the internal name of its "eXceed" program. "Carestream Health employs a phone survey process with global reach, a data-analytic approach to identifying and driving improvement projects, a rapid escalation process to address dissatisfaction, and an on-line employee dashboard of survey results for data transparency and ownership," notes Daher. The company's goal is to exceed customer expectations in ways its customer's value and to continuously improve its own performance.
Each year, Frost & Sullivan presents this award to the company that has demonstrated unparalleled excellence within its industry. The Award is based on numerous factors including the company's business development, competitive strategy, customer satisfaction, and leadership within a particular Frost & Sullivan Industry Research Group (IRG). This company is perceived to exhibit outstanding management and consistent growth. The company must offer high quality products and/or services and have positive social and economic impact on local and national communities. It should have proven expertise in taking advantage of market changes by capturing and solidifying market presence, or through execution of innovative strategies within the existing competitive landscape.
Frost & Sullivan's Best Practices Awards recognise companies in a variety of regional and global markets for demonstrating outstanding achievement and superior performance in areas such as leadership, technological innovation, customer service, and strategic product development. Industry analysts compare market participants and measure performance through in-depth interviews, analysis, and extensive secondary research in order to identify best practices in the industry.

More on the subject:
More on companies: