Carestream connects UK hospitals
When it comes to storing images PACS remains king across the industry, but increasingly vendor-neutral archives (VNAs), particularly cloud-based examples, are gaining market share fast due to their ability to bring significant financial, productivity and clinical quality benefits.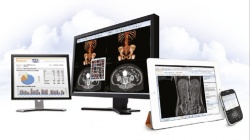 When Spire Healthcare, the UK's second largest provider of private healthcare, looked for a solution to provide their clinicians with access to patient images from any location and PACS environment, it was to Carestream's cloud-based services that they turned. The seven-year agreement was a natural progression as an upgrade to their existing Carestream PACS. As a result, their Healthcare IT Services will transition from a managed service-based model to a Software-as-a-Service (Saas) model, an innovative approach to managing imaging information on a predictable, pay-as-you-go basis. Carestream will host the new services in their first independent UK Data Centre.
Spire Healthcare was created in 2007 with the privatisation of British United Provident Association (BUPA) Hospitals and expanded rapidly the next year with the acquisition of Classic Hospitals and Thames Valley Hospital. With steady annual growth, Spire now operates 37 hospitals and 10 clinics nationwide. Quality of care and services is the key factor in Spire's continuing success with nine of 10 patients rating their experience either 'very good' or 'excellent' . Three in four employees consider Spire to be a great place to work
'Spire was looking for a better way to share diagnostic images, but also saw the potential for financial benefits,' said Ignace Wautier, Business Development Manager for Northern Europe. 'They did not want to continue maintaining and supporting the hardware needed for image storage, workflow management, or network security in the knowledge that the whole system would need replacing four years from now. The aim was to get rid of the complexity and establish a predictable cost month after month'
The Carestream's solution consists of a cloud archive to consolidate clinical viewing from disparate systems across the enterprise. By doing this in the cloud, Spire can rely on guaranteed performance and a scalable pay-as-you-go structure together with business continuance and disaster recovery, the company points out. 'The cloud archive is combined with Vue Motion, a zero footprint viewer that unifies clinical viewing across the entire Spire network so that clinicians can securely view PACS images no matter which system they are using. This ability to access images across multiple platforms is bringing increased flexibility and productivity to Spire consultants and timely results to patients.'
Vue Motion is not a product but a service for Spire Healthcare, Ignace Wautier pointed out. 'Spire is guaranteed to receive the latest software versions, developments, updates and upgrades. Image availability in seconds is guaranteed plus redundancy of the system, back up and recovery solutions.'
Stephen Hayward, IT Director of Spire Healthcare, said that having access to care records and reports on a mobile device at the clinician's finger tips will be a great boon going forward: 'In private healthcare the consultant largely decides where he takes his patients. 'To grow Spire's business we need to differentiate our services from those of our competitors so that our consultants want to bring their patients to us and consequently grow our revenues.'
Qaiser Malik MD, a consultant radiologist with Spire Healthcare, took part in the pilot implementation and discovered the benefits of being able to work remotely. 'I no longer have to physically go to the hospital to log in at one of the workstations to view images and previous reports. Although not diagnostic quality, Vue Motion allows me to perform a preliminary report, which can make a massive difference to patient management. I can log in at weekends wherever I am, which is of great advantage. It is an absolutely fabulous tool and advances patient care by providing clinicians with timely reports and a head-start on treatment options.'
According to Andrew Milne, Imaging Manager at Spire Hartswood Hospital, 'From the patients' perspective the fact that we can provide these images and reports very quickly is important as people come to the private sector because they want a prompt service and, using this new technology, we can provide that.
'The fact that it works across different platforms is a great advantage,' he said. 'Some of our consultants work at multi sites and the Vue Motion system allows them to access images from any Spire hospital. That means greater flexibility for them and greater flexibility for the patients if they are seen at, for example, another Spire hospital in the region.'
Saskia Groeneveld , Worldwide Marketing Manager for Healthcare Information Solutions believes that the cloud solution is a liberating technology for Spire giving users and administrators peace of mind so they can concentrate on healthcare. 'It also gives them scalability,' she added. 'They are a fast-growing organisation and using cloud serv­ices allows them flexibility to adapt the service to their changing needs.'
'Cloud services are already a proven platform for many hospitals in countries such as France, Germany, The Netherlands, Belgium, Japan and the US,' she concluded. 'In fact today we operate remote archiving for 320 sites worldwide at 10 cloud platforms. As of today, and it keeps increasing, we have 80 million radiology studies filed, representing two petabytes.'

More on the subject:
More on companies: