Carestream Cardiology PACS
Now Carestream Health can provide an enterprise-wide image and information management solution for cardiology data.  Bring the advantages of digital workflow to cardiology with an innovative web-based solution that enables: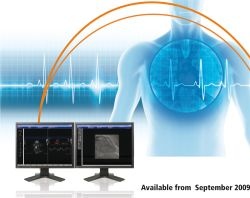 Consolidation of disparate cardio lab systems into a centralized solution for lower total cost of ownership
On-site or remote reading of cardiology data from any networked workstation within and beyond the enterprise
Single workstation review of echocardiography, cardiac cath, ECG, nuclear cardiology and hemodynamic results with fast, easy comparison of priors
CARESTREAM Cardiology PACS supports improved productivity, streamlined workflow, and enhanced patient care. These capabilities apply to procedures done within echo, cardiac cath, vascular and nuclear cardiology labs as well as to ECG management.
Leverage your investment
Achieve even greater efficiencies by integrating with CARESTREAM PACS. This empowers review within either radiology or cardiology PACS – from a single workstation. Tie both PACS into CARESTREAM Information Management Solutions for a lower total cost of ownership, while improving business continuity and disaster recovery.
Learn more about and click here
More on the subject:
More on companies: