Cardiometabolic risk assessment
The identification of cardiometabolic risk is one of the most frequently performed standard examinations, which many European health insurers even require for patients of a certain age. Up to now, physicians had to calculate the value manually on the basis of certain parameters – a time-consuming task. Seca, which specialises in medical scales, now offers 360° wireless, which not only measures the required parameters but also transfers the data to analysis software.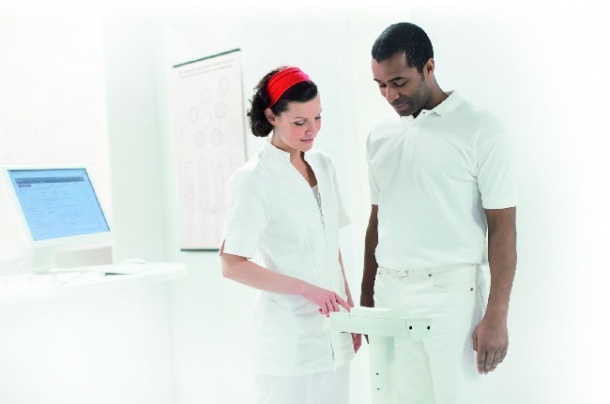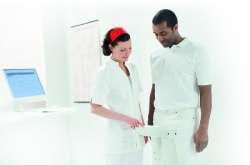 Within seconds the individual risk is determined and the result is entered in the electronic patient record.
'With this system,' explained Robert M Vogel, managing director at seca, 'we have finally completed our transformation from product to systems provider, which aims to leverage measurable parameters to the largest extent possible. In the future, we will equip all our major scales with a wireless module – at no extra charge. This module will transfer data via a USB stick mounted on the PC directly to the analysis software.' The analysis module Cardiometabolic Risk compares examination data such as body mass index (BMI), waist circumference, lipids, blood glucose and blood pressure to available research results, such as those of the Framingham study or indeed other studies the physician pre-defines as the reference. The score that indicates the cardiometabolic risk of the patient provides a reliable predictor of coronary heart disease within the next ten years.
'For the physician, who frequently does not perform the measurements himself, but receives the values from assistants, this module is a real time-saver,' he said. 'Rather than having to analyse the data manually, assign them to the right patient and enter them in the patient's medical record, the results are presented directly and he can compare them to previous data in the medical record.'
However, knowing the patient's cardiometabolic risk is only part of the story. What matters even more is the therapy designed on the basis of the measured values. This is where the second module – the energy module – comes in. This determines the exact daily calorie intake in order for the patient to achieve the targeted weight reduction in a pre-defined time frame. The software calculates both resting and total energy expenditure.
The wireless technology is ideally suited for hospitals. The data are transferred via an HL7 interface to the software which can be synchronised with the electronic patient record system. Double data entry is thus a thing of the past. Moreover, the data can be sent to a very handy small printer that provides hardcopy output.
'For us the development of a system solution including the software was terra incognita. But we had to do this since precise measurements by themselves neither offer more efficiency nor do they optimise clinical workflows. Rather, clinically highly relevant data have to be seamlessly integrated with other patient data,' Robert Vogel said, explaining his firm's decision to venture into the sustainablity of this new technology.