Building a clinical case for contrast-enhanced ultrasound
Adding micro-bubbles to the blood lights up the body for ultrasound scanners. Non-invasive, non-toxic and low-cost, these examinations present a disruptive, readily accessible technology for diagnosing disease. John Brosky reports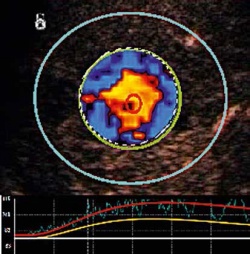 Whilst contrast enhanced ultrasound (CEUS) remains an off-label use beyond cardiac applications in the USA, European physicians are rapidly compiling a powerful clinical case for applying the technique for tumour detection and tissue characterisation almost everywhere else in the body.
In August this year, CEUS was recommended by the United Kingdom's National Institute for Health and Clinical Excellence (NICE) for the detection of focal liver lesions, characterising cirrhosis and investigating potential liver metastases. NICE is Europe's only methodical health technology assessment authority and is both widely followed and highly influential, with its sharp eye for opinions on costeffectiveness. A year ago at this time the European Federation of Societies in Ultrasound Medicine and Biology (EFSUMB) issued guidelines on Liver CEUS, as well as recommendations on non-hepatic applications. While several companies are advancing CEUS agents towards the market, notably Sonozoid from GE Healthcare (Waukesha, Wisconsin), the dominant agent in clinical practice in Europe is SonoVue from Bracco Diagnostics (Milan, Italy).
CEUS approval in the USA remains fixed within the FDA approval for cardiac imaging in patients with suspected or established cardiovascular disease, to improve visualisation of cardiac chambers and endocardial borders. An aqueous suspension of microbubbles in the blood enhances the ultrasound signal, illuminating a target area. The distinguishing quality of this device is the use of sulphur-hexafluoride micro-bubbles, which Bracco claims further amplifies the signal quality yielding diagnostic information comparable to more expensive imaging techniques, such as nuclear medicine, contrastenhanced computed tomography (CT) or magnetic resonance imaging.
In March 2011, the company reported to the FDA that the database of pooled data on SonoVue for 70 completed clinical studies includes 5,275 patients, with only three of them reporting adverse events where the contrast agent could not be ruled out as the cause. In the 18 months since that report, the database of clinical studies has grown rapidly. European clinicians have a long advance on American colleagues for exploring every aspect of a CEUS examination from transducers to dosage. A special supplement to the European Journal of Ultrasound covers topics such as perfusion quantification, nodules characterisation, and the range of developing diagnostic algorithms. The mathematical models used to extract the visualisation from the ultrasound signal become critical to bring perfusion quantification with CEUS to the standards established for contrast enhancement with CT and MRI. Time intensity curve parameters emerging as essential criteria for CEUS diagnosis include especially the wash-in/wash-out analysis with bolus injection.
Recent European CEUS guidelines provide researchers with detailed discussion of these models, including pitfalls and artefacts that can be encountered. Off-label usage by researchers in Europe is overtly encouraged. In the August 2012 supplement of the European Journal of Ultrasound, editors wrote that CEUS presents a promising tool for studies in the musculoskeletal system, gastro-intestinal tract and in the chest. As an example they cite explorations for endocavitary. 'Although the precise concentration of US contrast has not been defined yet, adding some drops of SonoVue to a physiologic saline solution is all that is needed to outline fluid collections, to diagnose normal and abnormal connections between body cavities, to visualise bile duct obstructions and internal fistulae, and much more,' they wrote. Three years ago Bracco and TomTec introduced SonoLiver, a PC-based software for radiologists to review off-line dynamic images of blood perfusion in the liver. The number of clinical studies for liver focal lesions immediately increased as the software became available across multiple manufacturers' platforms.
More on the subject:
More on companies: