Radiology IT
Bracco Imaging invests in IT for Radiology
Bracco Imaging, a leading global company in the diagnostic imaging business, today announced a strategic investment in PHS Technologies Group, a
division of PACSHealth, to further expand its portfolio of Informatics Solutions for Radiology.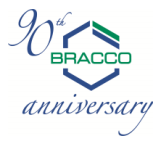 The strategic investment is aimed at broadening Bracco's portfolio of software applications for dose management in order to provide healthcare organizations with the information needed to ensure patient safety, enhance imaging exam consistency, maintain regulatory compliance and
monitor radiation dose at an enterprise level.
The agreement strengthens the partnership with PHS Technologies Group, allowing Bracco to enhance distribution efforts of NEXO[DOSE] in existing markets and access emerging opportunities in new geographies.
"We are pleased to reinforce our partnership with PHS Technologies" said Fulvio Renoldi Bracco, Head of the Business Unit Imaging at Bracco Imaging. "The investment will provide new opportunities for Bracco to quickly address the increasing challenges in healthcare delivery
according to the new market requirements in terms of radiation exposure monitoring."
"PHS Technologies Group is excited to expand its relationship with Bracco" said Mike Battin, Chief Operating Officer of PHS Technologies Group. "PHS is the OEM manufacturer for Bracco's NEXO[DOSE] product and will implement an expanded service and support offerings to the new markets. Furthermore PHS will provide significant functional improvements to the application portfolio over the next 24 months."
Source: press release Bracco
More on the subject:
More on companies: