Happy Birthday!
Bracco celebrates its 90th anniversary with "Bracco Fellowships"
Bracco Imaging S.p.A., a leading global company in the diagnostic imaging business, today announced at the European Congress of Radiology (ECR) the launch of the "Bracco Fellowships", a new, unique initiative to promote excellence among European radiologists in partnership with the European Society of Radiology (ESR).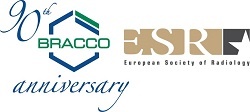 This educational program, devoted to the professional development of young radiologists, has been created on the occasion of the 90thanniversary of Bracco, in continuity with the company's long-lasting commitment to support the diagnostic imaging community.
"I am particularly proud to partner with the ESR for this important educational program," said Fulvio Renoldi Bracco, Head of the Business Unit Imaging at Bracco Imaging. "For decades, we have been supporting the development of the radiological community with continuous efforts in education. This year, on the occasion of the 90th anniversary of Bracco, we are confirming our commitment to the values that have been at the core of our attention: education for the talents of the future and development of the radiology profession," he added.
"I am very happy that Bracco and ESR share a common vision of radiology education, and this convergence of ideas, and joining of forces, will open up the world of international education for a new generation of young radiologists," said Prof. Paul M. Parizel, ECR 2017 and ESR President said.
With the "Bracco Fellowships" program, which will be coordinated by the European School of Radiology (ESOR), Bracco will provide 90 grants that will be used to support the training of young radiologists with high leadership potential at leading healthcare centres.
About Bracco Imaging
Bracco Imaging S.p.A., part of the Bracco Group, is one of the world's leading companies in the diagnostic imaging business. Headquartered in Milan, Italy, Bracco Imaging develops, manufactures and markets diagnostic imaging agents and solutions that meet medical needs.
Bracco Imaging offers a product and solution portfolio for all key diagnostic imaging modalities: X-ray Imaging (including Computed Tomography-CT, Interventional Radiology, and Cardiac Catheterization), Magnetic Resonance Imaging (MRI), Contrast Enhanced Ultrasound (CEUS), Nuclear Medicine through radioactive tracers, and Gastrointestinal Endoscopy. The diagnostic imaging offer is completed by several medical devices and advanced administration systems for contrast imaging products in the fields of radiology.
The Company operates in more than 100 markets worldwide, either directly or indirectly, through subsidiaries, joint ventures, licenses and distribution partnership agreements. With an on-going research covering all key modalities, Bracco Imaging has a strong presence in key geographies: North America, Europe and Japan operating through the Joint Venture Bracco-Eisai Co. Ltd. The Company also operates in Brazil, South Korea, and China through the Joint Venture Bracco Sine Pharmaceutical Corp. Ltd.
Operational investments have been made in order to achieve top quality and compliances with a sustainable eco-friendly production. Manufacturing activities are located in Italy, Switzerland, Japan, China, and Germany.
Bracco Imaging is an innovative Research and Development (R&D) player with an efficient process oriented approach and a track record of innovation in the diagnostic imaging industry. R&D activities are managed in the three Research Centres located in Italy, Switzerland, and USA.
To learn more about Bracco Imaging, visit www.braccoimaging.com.
About ESR and ESOR
Founded in 2005, by merging the European Congress of Radiology (ECR) and the European Association of Radiology (EAR), the European Society of Radiology (ESR) is an apolitical, non-profit organisation dedicated to strengthening and unifying European radiology.
With more than 69,300 members across the globe, it has grown to become the largest radiological society in the world and hosts one of the biggest and most innovative scientific meetings in Europe, the European Congress of Radiology, in Vienna each year.
The Society works closely with national radiological societies across Europe and further afield, while establishing relationships with major international organisations from other related fields. It also monitors developments on the EU level which could have an impact on research and practice in radiology, with the best interests of the patient as its overriding goal.
The European School of Radiology (ESOR) is an institution, fulfilling the mission of the European Society of Radiology (ESR) in the field of education. One of its main goals is to assist in harmonising radiological education in Europe. With its wide range of activities ESOR additionally aims to raise standards in the field of scientific radiology, to extend and coordinate teaching resources worldwide and to help young radiologists to achieve the knowledge and skills to fulfil tomorrow's requirements. ESOR is celebrating its 10th anniversary on the occasion of ECR 2017.
To learn more about the ESR and its activities, visit www.myesr.org
More on the subject:
More on companies: