News • Collaboration
Blue Phantom system used for acceptance of the first Varian Halcyon machine in Europe
IBA (Ion Beam Applications S.A.), the world's leading provider of proton therapy solutions and radiation therapy integrated quality assurance (QA) for the
treatment of cancer, announces the acceptance and beam model validation of the first Varian Halcyon machine in Europe to go clinical, at the hospital UZ Leuven in Belgium, using IBA Dosimetry's Blue Phantom water phantom system.
Professor Tom Depuydt, Head of Physics at UZ Leuven, Belgium, said: "We are very happy to announce that we were able to deliver the first treatment fraction with the Varian Halcyon system on October 2nd, within just 14 days of the machine's installation. This was made possible by the fruitful collaboration of our physics team and IBA Dosimetry, and use of the Blue Phantom system to ensure fast and reliable acceptance of our new machine."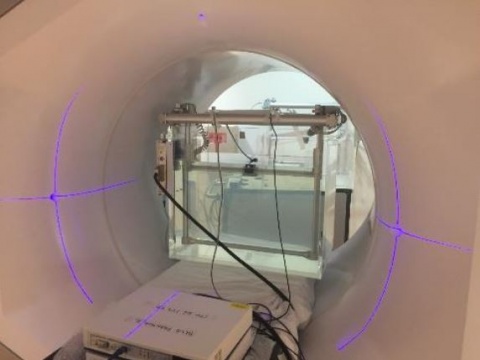 The Blue Phantom system enables fast and seamless beam scanning workflows that are ideal for verification and annual QA of the Varian Halcyon. Next to the compact design, the phantoms conveniently accessible micro-leveling frame enables fast and precise system setup.
Christian Neumeier, Marketing Specialist for Relative and Absolute Dosimetry at IBA Dosimetry, said: "We are very proud that we have reached this important milestone together with UZ Leuven, the first hospital in Europe to go clinical with a Varian Halcyon machine by using our internationally known Blue Phantom system. This milestone is testimony to the system's unique technology and the benefits of its use in Halcyon verification and annual QA."
Source: IBA Dosimetry
More on the subject:
More on companies: