Tomosynthesis
Biopsing areas better seen with breast tomosynthesis
Tomosynthesis is a breast cancer screening and ­diagnostic modality that acquires images of a breast at ­multiple angles during a short scan. The individual images are then reconstructed into a series of thin, high-resolution slices typically one mm thick.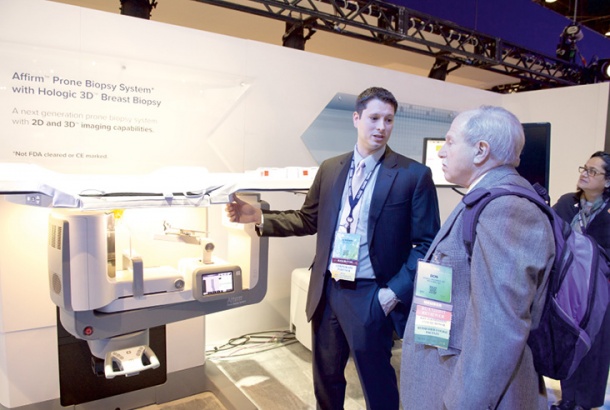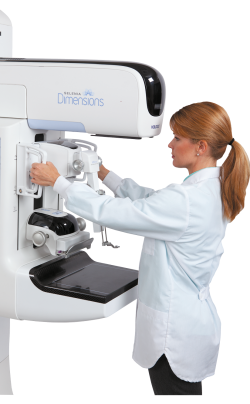 A tomosynthesis dataset greatly ­reduces detection challenges associated with overlapping structures in the breast, which is the primary drawback of con­ventional 2D ana­log and digital mammography. By the end of 2015, Hologic, the leader in breast tomosynthesis¹, had installed approximate­ly 3,600 breast tomosynthesis systems worldwide.² Many sites using the Hologic tomosynthesis system have purchased Hologic's C-View software which generates a 2D image from the tomosynthesis dataset, avoiding the need for a sepa­rate 2D exposure. Eliminating the 2D exposure saves time and makes the dose of a Hologic 3D MAMMOGRAPHY exam comparable to the dose of a conventional 2D exam.
Clinical studies, including the landmark JAMA study, "Breast ­Cancer Screening Using Tomosynthesis in Combination With Digital Mammography," found that Hologic breast tomosynthesis exams resulted in a significant increase in Positive Predictive ­Value (PPV) for biopsy versus conventional 2D mammography.³ PPV for ­biopsy is a widely used measure of the proportion of women having a breast biopsy who are found to have breast cancer.
Unfortunately, suspicious areas found with breast tomosynthesis exams may be occult in other imaging modalities (conventional 2D mammography, ultrasound, breast MRI), or better seen with tomo­synthesis. There clearly is a need for a biopsy system capable of ­targeting these hard to image areas. That need is answered with the Affirm™ upright and prone biopsy systems from Hologic.
Tomosynthesis targeting capability in an upright biopsy system
In 2014 Hologic introduced the Affirm™ upright breast biopsy guidance system allowing users to target areas only found with 3D MAMMOGRAPHY exams. The Affirm upright system with Hologic's 3D Breast Biopsy offered faster targeting, lower dose, and superior performance when compared to conventional stereo­tactic biopsy systems.4
The Affirm upright system is an add-on to the Hologic Selenia Dimensions mammography system, allowing the same room to be used for screening, diagnostic and biopsy procedures. Because the biopsy system uses the same imaging platform as the ­screening system, areas of suspicion seen in a mammography exam are quickly and easily targeted.
Tomosynthesis targeting capability in a dedicated prone biopsy system
During 2016 Hologic is introducing the commercial availability of the Affirm prone biopsy system, the first dedicated prone ­biopsy system capable of both stereotactic and tomosynthesis-guided breast biopsies. The Affirm prone biopsy system is CE marked and pending 510k clearance in the U.S.
The new system complements Hologic's Selenia® Dimensions® mammography system and Affirm upright biopsy system to ensure that facilities have all the options necessary to provide ­minimally invasive breast biopsy to their patients. The Affirm prone system provides enhanced biopsy performance over existing prone systems with:
Exceptional biopsy imaging capabilities using the same ­detector technology as the Hologic tomosynthesis mammography system. —> We should not compare but make it absolute.
A streamlined workflow designed to make using the system fast and easy to use.
Access to challenging lesion locations with a fully integrated C-arm. The C-arm allows a full 360° access to the breast with both standard and lateral needle approaches – without requiring ­additional accessory attachments.
The Hologic Affirm upright and prone biopsy systems push the boundaries of breast care. With their dual stereotactic and groundbreaking tomosynthesis biopsy capabilities, radiologists can now easily locate and target regions of interest for biopsy, delivering streamlined workflow, accurate targeting and exceptional images.
---
1 IHS Technology. "Mammography X-ray Equipment-World-2014 – Version 2." October 2014
2 Hologic 2015 Q4 Earnings Call, November 4, 2015. http://investors.hologic.com/webcastpresentation#past:2016:1(accessed January 20, 2016)
3 Friedewald S, Rafferty E; Rose S, et. al. "Breast Cancer Screening Using ­Tomosynthesis in Combination with Digital Mammography." JAMA. 2014;311(24):2499-2507. doi: 10.1001/jama.2014.6095.
4 Schrading S, Martine D, Dirrichs T, et. al. "Digital Breast Tomosynthesis-guided Vacuum-­Assisted Breast Biopsy: Initial Experiences and Comparison with Prone Stereotactic Vacuum-assisted Biopsy." Radiology. 2015 274:3, 654-662 and Smith A, Sumpkin J, Zuley M, et. Al. "Breast Cancer Screening Using Tomosynthesis in Combination with Digital Mammography," JAMA. 2014; 311(24): 2499-2507.
More on the subject:
More on companies: