Back on the map
At the RSNA meeting in Chicago, Philippe Houssiau, President of Agfa's HealthCare Business Group, spoke with Daniela Zimmermann, Executive Director of European Hospital, about a strategy that has swiftly launched important new products and olutions into the world's healthcare market
In September 2002, when Philippe Houssiau became President of Agfa's HealthCare Business Group, he quickly saw that the company possessed huge imaging technology and knowledge that could be focused on producing new products and solutions.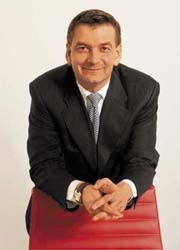 'The firm was threatened to loose its technological advantage in computed radiography (CR),' he explained during our interview. 'We had to regain ground on the development of basic print systems. And we had to catch up with the US market in particular, where web-enabled PACS-systems were produced by Amicas and Fuji. We faced a lot of challenges to concentrate on immediately. So, my first plan - for last year - was to put Agfa back on the map in terms of imaging technologies.'
The entire product portfolio needed to be reinvented, he pointed out. The strategy for this, developed with the Agfa team, focused on three major areas: consolidation of the firm's position in radiology, from analogue to digital and from digital into IT fields, to provide a very comprehensive portfolio. The second: To capture a very strong position in image-intensive departments, emphasising workflow decisions that support content management, and the third aim was that the Group would acquire an overall IT infrastructure to allow '...a perfect marriage of technical and administrative workflow,' he explained.
Acquisitions followed (e.g. Heartlab, specialising in cardiovascular IT) to bring on board any missing components in the drive towards that complete portfolio.
'We worked very quickly on the 4.5 launch for IMPAX, with the new CR range - the 25 and 75 series - already taking a position in mammography. For me, this was not enough because it put us back at level with the competition - but not better than them,' he reflected. 'A company such as ours can only survive if it is a technology innovator. We need to differentiate the technology and differentiate the quality of our sales relationship with our customers; that's the game for us to play. So we went on a very, very tight development programme - in all our business areas. Now, I'm pleased to say we've made the first step with the introduction of DX-S, because it basically creates a new market segment between DR and CR. DX-S is not a flying spot scanning system, as in other CRs; it is a line scanner, which digitizes plates based on new needle crystals, an IP technology that limits light-scattering, so it ensures much better quality. It is similar in performance to a DR, but at a fraction of the cost. This is an absolute breakthrough innovation. No one else has it. Together with the highly improved workflow, it has prompted absolutely outstanding reactions from our customers.
'We also launched the 6.0 version for IMPAX and IMPAX Enterprise, a persona -based web deployable solution - not a thin client, not a thick client but a smart client - that can be operated in a multi-site environment, which is often an issue with other thin client applications and which is basically an enterprise solution because it operates on a community basis way, outside radiology. Then we produced a fully integrated RIS, PACS and TALK solution - speech recognition - a major difference for customers. For the imaging centre - the biggest growth segment in PACS - in the USA, where it's a hot topic, we have a very dedicated practice management solution with integrated speech, and this is really targeted to that segment. It can also be applied in Europe. In Asia-Pacific it's already a huge success, and in Latin America the new product range is bringing our first, very large sales. We are back on the map, and this is only the beginning. I think the next generation of PACS, after 6.0, will be even more of a breakthrough. This probably will be launched during RSNA 2006. It's going fast. We are really shortening the development cycle.
'Then, of course, we have the new bilateral agreement with Siemens on DR mammography. We will distribute and sell their Mammomat Novation system, complemented by our Musica software and our full range of mammography products - again, a real breakthrough. We also have a bilateral agreement with Siemens: They will distribute our CR products. So I think in terms of re-positioning ourselves, AGFA is back. That's the feedback from our customers and even our competitors.'
DZ: What about Agfa's presence in cardiology and surgery?
'I can't say too much, but we are working hard and coming up with a solution. We have it embedded in the GWI offering already, with a specific tool for that application, but we are going far deeper into it - which is also related to our imaging technologies.The only area in which AGFA and GWI had some issues was differences in sales culture and customer relationships. It takes a little time to marry in to a new culture. We are on our way. From the development perspective, what I see is, for example with the Tiani-PACS people and our IMPAX people, we have drawn them together and the results are absolutely stunning. In terms of further developments, such as imaging technologies - 3-D-Tiani has an extremely good application, and we are working on virtual colonoscopy, MRI perfusion for mammography... fantastic tools and applications. A lot of this will be surgery-related, so there's a lot we can offer in applications in the 3-D area, the quantification area, that can be bought by customers and just basically launched on a PACS, just like that! And it's going to be a development towards an open-sourced, on-the-fly architecture that can be easily navigated, with applications like the one you see from XTREAM, where basically the server can push out 3-D images. It's very important stuff and really the direction we are heading.
DZ: Heartlab comprises your cardiology division?
'In terms of technology and positioning, our acquisition of Heartlab - the US market leader - means that together we hold about 20% of the US market share, and that's a fragmented market, so we are very strong there - and growing. We are also making big cardio sales in Europe, where it is in the process of being integrated with IMPAX and is already interfaced with the GWI applications suite.'
DZ: Was there a cultural problem with Heartlab?
Any acquisition brings cultural problems. It's a matter of turning them into opportunities, because you have different styles. I always said that where we saw an opportunity we would reverse integrate, because in some cases AGFA can learn from smaller companies. Entrepreneurial spirit, a can-do mentality, is very important and we don't just let that flow away. So what we do, for example with Heartlab, is let them be a little on their own, then we very very gradually integrate or reverse integrate.'
DZ: Which was completely different from the story with GWI?
'No, it was also a little bit like that, but because we were immediately in a sales situation with a fairly broad portfolio - IMPAX - naturally it took a while before we had everything ironed out. However, on the whole, if you look at GWI's continued successes, five out of the seven enterprise IT-deals in Germany have been won by GWI. Up to now, we have sold 40 RIS/PACS systems in Germany, so business is going quite well. However, I am a bit concerned about the evolution of the IT market in general right now. In Europe it is not growing fast enough, for political reasons and because of other medical technology. If a hospital has to make a choice between getting the new 64-slice-CT on board or getting a new IT system they will go for the 64-slice-CT.
DZ: It's very difficult for hospital administrators to understand IT advantages.
Yes, that's what we are seeing right now. However, we are convinced that the IT business will move very quickly on the next couple of years.
More on the subject:
More on companies: