PRODUCT OF THE MONTH
ARIETTA V70 - Sense and Visualise Ultrasound
ARIETTA V70 incorporates features that reduce stress and improve its ease-of-use. Detailed ergonomic design that meets recommended industry standards supports a comfortable working environment.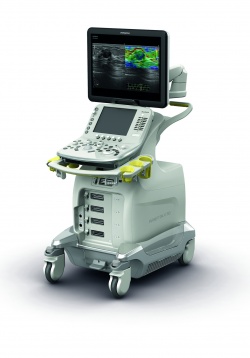 The platform is compact and light-weight, with excellent ergonomics designed to recommended industry standards using operator feedback.
The large palm rest at the centre of the operating console is designed to provide optimum wrist support to reduce stress when scanning for long periods
Two-way multi-rotary encoders offer intuitive operation, enabling the management of many functions in one control. This results in a significant reduction of hand and arm movements and a shortening of the examination time.
The panel height can be lowered to 70 cm, allowing the operator to perform lower extremity examinations with a safe, comfortable reach to the operating console.
---
ARIETTA V70 is equipped with multiple functions dedicated to each diagnostic field, supporting more accurate and efficient diagnoses.
Multi-Layered and Single Crystal technologies allow more efficient transmission and reception of the ultrasound pulse with minimal energy loss, increasing both the sensitivity and clarity of the images
New front-end technology: the Compound Pulsed Wave Generator (CPWG+) uses an efficient programmable transmission waveform to generate pulses with high sensitivity and resolution.
PIXEL Focusing for increased precision and clear delineation of the region of interest.
The ultrasound-specific high performance processor, Ultra Backend, performs powerful processing such as HI-REZ+.
With a high contrast ratio and wide viewing angle, the IPS-Pro monitor gives a rich representation of the displayed image.

Symphonic Technologies: from wave generation to image display, technologies are harmonized, underpinning the outstanding quality of ARIETTA V70's diagnostic images
In radiology, a high-level of accuracy and reliability is necessary to ensure early detection, precise diagnosis, and to determine appropriate treatment. The ARIETTA V70 is equipped with advanced technologies that facilitate fast and accurate examinations, such as Real-time Virtual Sonography (RVS) and Real-Time Tissue Elastography.
In the cardiovascular region, the B, colour flow and spectral Doppler modes offer new levels of clinical performance with less patient-dependent variability. The advanced auto tracking function of Eyeball EF and 2D Tissue Tracking (2DTT) permits evaluation of cardiac function with high precision and accuracy.
The ARIETTA V70 is compatible with a range of surgical transducers, supporting a wide variety of specific procedures. Contrast enhanced ultrasound and Real-time Tissue Elastography used during surgery are supplementary tools that can aid in the detection of additional lesions.
In OB/GYN, high-resolution B-mode imaging coupled with eFLOW, the advanced flow mapping mode that offers increased sensitivity to flow in minute vessels, facilitates accurate assessment of fetal well-being. In addition, ARIETTA is equipped with a diverse range of advanced functions including Dual Gate Doppler, valuable for diagnosing fetal arrhythmia, and STIC, providing morphological observation of the fetal heart.