Analysis made easier
The Leica DMD108 has been designed to ease the growing workload in histopathology laboratories.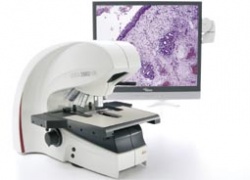 As the ability to diagnose disease through new technologies improves, the number of tissue sections a histopathologist needs to analyse each day increases. The new network imaging solution, designed by Leica Microsystems and tested extensively with pathologists, offers an innovative solution that increases physical comfort, speeds daily workflow without changing the process and provides an easy solution for sharing data.
Instead of looking through a microscope to analyse specimens - the Leica DMD108 system provides high-quality images directly onto a monitor using a high-resolution camera and powerful image-processing software, generating high-resolution images with brilliant colour. It can be used to photograph specimen details of interest or compare tissue sections and store the images. Size ratios are also calculated. The histopathologist can then audio-record the diagnosis directly onto the DMD108.

By using a second monitor or high-resolution data projector, the Leica DMD108 can be used for training, conferences and discussions. Images can even be emailed during the work.