Ambulatory surgery
A leading expert reveals ways for hospitals to tackle more out-patient procedures
Massive and increasing cost pressure urges many hospitals to look for alternatives to expensive in-patient surgery.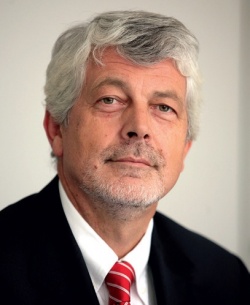 Ambulatory (or out- or day-patient) surgery centres associated with the hospital may be an option because these spin-offs promise significant savings in terms of beds, staff and valuable operating theatre time. Professor Michael Möllmann of St. Franziskus Hospital in Münster, Germany, is a renowned expert on the future-oriented design and operation of ambulatory surgery centres.
'A hospital looking to offer day surgery services should consider a separate and lean organisation, which requires less staff that can be efficiently deployed,' he points out, adding that, ideally the day surgery centre is a purpose-built, singlestorey construction that is physically attached to the hospital. He recommends a circular or semi-circular building where a minimum number of staff can cover a maximum number of tasks and where the waiting, preparation, examination and recovery areas can be monitored from the centrally located admission area. No matter what building shape is chosen, short distances are imperative: 'The distance from the admission area to the operating theatre (OT) table must never exceed 10 metres, so the patient can cover it without assistance and quickly,' he recommends. In many hospitals, he notes, it takes ten minutes from the patient admission area to the OT. In the time staff spends 'en route', four to five additional patients could have been treated. 'This adds up to an annual loss of several hundred thousand Euros,' Professor Möllmann estimates. Moreover he recommends OTs with two tables, to ensure transition times between interventions of five minutes maximum. 'With transition times of 30 or 40 minutes, ambulatory interventions are no longer profitable as only the mere OT time is being reimbursed.'
A successful day surgery centre also needs intelligent management. Professor Möllmann recommends workflow-oriented theatre planning as well as a fixed schedule with only one type of surgical procedure per day, to reduce transition efforts. The surgeon stays in theatre between procedures and no valuable time is lost.
Anaesthesiology preparation for day surgery patients remains a crucial open issue, the professor points out. In Germany, prior to an intervention the surgeon assigns the patient to one of three groups in line with the classification of the American Society of Anaesthesiologists (ASA). Only patients in group 3 (ASA III) need to come for a pre-operative anaesthesia consultation; patients in the two other groups simply show up just before the surgery. 'This procedure frequently leads to the difficult situation that a patient scheduled for surgery needs a more in-depth assessment and the anaesthesiologist is forced to decide whether to call off the intervention or turn a blind eye,' Prof. Möllmann points out.+
A promising approach, Professor Möllmann explains, is a risk assessment and a pre-medication screening by telephone before the surgery, as developed by Professors Guy Ludbrook and Cliff Grant at the University of Adelaide, Australia. The surgeon forwards the relevant patient data to a call centre, which contacts the patient. The study so far indicates that the data quality provided by that telephone screening is comparable to that provided by conventional methods. Thus the surgeon has sound data on which to base a decision whether the patient needs to come for a pre-operative consultation or not.
Data collected during the screening are on the anaesthesiologist's desk before the patient arrives on the surgery day. Since 'the physician already knows quite a bit about the patient, which significantly increases patient safety,' Prof. Möllmann considers introducing such a system in Münster. 'We are currently conducting a study to develop an algorithm for our patients,' he explains. However, the interview will be conducted by care staff and will not replace premedication. It is much more designed as a pre-check 'to give us an idea of the patient we will be seeing'. The professor expects initial study results to be available in spring 2013.
PROFILE

Professor Michael Möllmann, specialist in ambulatory surgery, studied medicine at the Westphalian Wilhelm University of Münster, Germany. From 1984 to 1993 he worked at the Anaesthesiology and Intensive Care Department, at Münster University Hospital before his roles as Assistant Professor in Anaesthesiology at Wilhelm University and Head of the Department of Anaesthesiology and Intensive Care at the St. Franziskus Hospital Münster, of which has also became Medical Director in 2007. The hospital has operated a dedicated associated ambulatory centre since 2001. Around 11,000 surgical procedures have been conducted in day surgery, mostly involving ophthalmology, minimally invasive gynaecology, ENT and paediatrics.