ALPINION Medical Systems
The goals are ambitious: Although in the market merely four years, the start-up firm Alpinion Medical Systems states its intention to become one of the prime providers in the ultrasound segment with superior imaging and unique transducer technologies. In an interview with Daniela Zimmermann of European Hospital, Thomas Roth, Alpinion's Managing Director, explains his corporate strategy and conviction of success.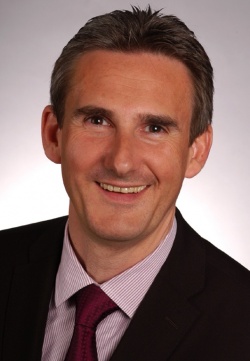 Alpinion is a rather young player in the ultrasound arena. What makes your products special?
Thomas Roth: 'Alpinion is indeed a young enterprise, but, our people are not young. Rather, I would say that Alpinion's associates own professional backgrounds in the Ultrasound industry. 'The company was founded in 2007 by some professional engineers who had been working for leading healthcare companies for several decades. 'With in-depth knowledge and insights, they are deeply involved in Alpinion's system developments that focus on a fundamental imaging technology. 'Under the corporate philosophy, Excellence in Fundamental, Alpinion focuses its core technological capabilities in unique acoustic engineering, system hardware architecture, and imaging SW development. Amongst the technological categories, Alpinion exerts its very best to the innovative acoustic technology 'We've captured the lead across the range of acoustic engineering, processing engineering and quality control standards. Alpinion offers a full suite of all new transducers that apply advanced piezoelectric materials including PZT, PZT composite, and single crystal.' On the next year, we plan to launch a bread and butter product line, widening application coverage vertically and horizontally, and offer outstanding imaging performance and maximal work efficiency.'
In which countries do you expect to be successful?
'In Europe the major customers are in Germany. So we established a subsidiary in southern Germany to support out corporate HQ in South Korea. We want to be present on the European market. Our sales team has been active since earlier this year and has managed to acquire about 80 trade partners in only nine months.'
What feedback have you been receiving from customers?
'We launched our prototype E-Cube 9 in 2010, at the joint meeting of the Austrian, German and Swiss Societies for Ultrasound in Medicine and also at MEDICA. Feedback was very positive. Our ultrasound system has a great design and offers excellent image quality. Our customers were amazed. That's our philosophy – to create an ultrasound system with superb image quality.'
Who are your customers – hospitals or office-based physicians?
'With our ultrasound system E-Cube 9 we focus on physicians' practice at the beginning stage. However, we're in the process of developing further product portfolio, which will be ready for the market in the first quarter of 2012. 'Our target will be expanded into hospital market with new product portfolio next year. In addition, we'll launch a high-end laptop ultrasound system with outstanding linear image performance.'
What additional features will the high-end system offer?
'The system will provide even better image quality. It will offer features that today are standard in the hospital segment, but so far have not been crucial in the practice segment. I will not divulge more at this point.'
Is the new system also geared towards hospital radiology departments?
'We'll tailor this system to different clinical disciplines. Starting out with cardiology is a strategic decision. From day one, we want to show that we have the knowhow to develop an interdisciplinary product and we do not need to limit ourselves to a certain medical area or a certain technology. For example, there's an Asian company that initially focused on gynaecology. Now it's difficult for this company to conquer the cardiology or internal medicine segment. That's something we want to avoid by offering cardiovascular products from the very beginning.'
You underline your products' image quality – does any hard data support your claim?
'Image quality is a subjective matter and consequently there are no studies. But we get feedback from the users who know the products in the different price segments. They, the users, are the ones who test the Alpinion system and compare it to reference systems or to the high-end systems available in their hospitals. We don't claim to offer the best image quality in the entire ultrasound market but, compared to systems in the same class, our image quality is one to two classes better.'
What are your goals for the next five years?
'It's our strategic goal to become a global multi-modality provider of medical technology. Let me put it this way: We'll be the first or second in the specific application or fields, then will move into the premier league to challenge the giant players in the medical industry. Therefore, Alpinion doesn't only work on diagnostic ultrasound systems. Currently we are performing the pre-clinical evaluation of therapeutic ultrasound systems. This is a very interesting and important area, particularly in highly industrialized countries like Germany. 'In oncology, high-intensity focused ultrasound – HIFU – is increasingly considered to be a viable alternative to radiation therapy. This will be the second pillar of our business – the third pillar being the transducers that we manufacture ourselves. 'We also intend to launch further product families in the next five years, either through acquisitions or our own developments, to cover the entire field of diagnostic imaging. We are looking into digital X-ray, MRI, CT and the entire homecare area. Alpinion's drive for innovation never ceases. We believe that we can reach our longterm goals through our professional resources and partnerships together.'
Alpinion is at MEDICA
Hall 10. Stand D59