ALPINION Medical Systems introduces new E-CUBE Series
ALPINION Medical Systems successfully debuted the E-CUBE 9 to the global healthcare market in 2011 and thus has won recognition in setting a high standard for the healthcare market with its advanced technologies and uncompromising performance.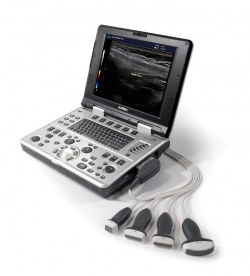 ALPINION, a subsidiary of the ILJIN group, has made a long-term investment to secure core imaging technologies based upon its corporate motto - "Core Value and Core Technology for Customer". Reinforced with core technologies, that are fully utilized in new products, ALPINION plans to introduce the full-scale, 3 new products at the AIUM (American Institute of Ultrasound in Medicine).
The company will release a new E-CUBE series that features a wide selection: from high-end & high specification equipment - to - compact & hand-carried ultrasound systems. ALPINION's core, cutting-edge transducer technologies are applied to all systems.
E-CUBE 15, a highly integrated product line running on FleXcan Architectur software technology, is built on ALPINON's innovative technology. FleXcan Architecture provides superb images through highly optimized software for diagnostic applications. This has an 'open scan structure' that provides a rapid and precise performance through impedance matching when utilizing special transducers per each clinical area. Thanks to these advanced technologies, the E-CUBE 15 provides optimized solutions to realize an accurate diagnosis with fundamental high resolution and excellent linear pattern images. Diagnostic accuracy can be consistently and conveniently upgraded through software-driven characteristics that provide improved image quality and strong flexibility to cope with unique diagnostic circumstances. In addition, transducers exclusive for the E-CUBE 15, provide uniform and clear images through ALPINION's new imaging technologies.
ALPINION Medical System introduces the E-CUBE 7 to target the increased number of 'smart users' who pursue high-spec ultrasound systems at reasonable prices. The compact sized E-CUBE 7 is embedded with ALPINION's innovative technology to provide a strong imaging performance. ALPINION takes pride in the selection of transducers available for all applications. Single Crystal technology, used only for premium systems, is now applied to the E-CUBE 7 to enable the acquisition of high resolution and wide-bandwidth images. With a slim design and excellent mobility, the E-CUBE 7 has superior compact advantages for portability and efficient diagnosis.
E-CUBE inno, a hand-carried ultrasound system, is suitable for any circumstances where POC (Point Of Care) is needed. It is designed to perform with near-instant operation through its rapid boot-up time, intuitive operation, and intuitive design. The solid design guarantees reliable performance and robust durability, required in all dynamically changing diagnosis environments.
ALIPNION Medical Systems is the only Korean Company that continues to develop therapeutic ultrasound systems, HIFU (High Intensity Focused Ultrasound), a patient-friendly, safe, and non-invasive therapeutic technique for cancer treatment. ALIPNION Medical System has continuously developed this technology since 2008. At the end of 2012, ALPINION will launch the first clinical tests in Korea. Prior to this, ALPINION completed to install the pre-clinical HIFU system at Seoul National University and Washington University. ALPINION's pre-clinical HIFU system is scheduled to be introduced at AIUM 2012.
ALPINION produces ultrasound imaging systems for diagnosis and therapy as well as advanced piezoelectric and single crystal transducers. The transducer is the key component for ultrasound imaging systems. ALIPINION Medical Systems offers superior medical transducer technologies in the relentless quest to develop superior therapeutic and diagnostic ultrasound system.
After significant material and monetary investment, ALPINION Medical Systems has acquired an innovative Single Crystal technology that encompasses a high level of technological sophistication. Traditionally this advanced technology was reserved for premium class ultrasound systems; however, ALPINION applied its own single crystal transducers to all product lines. ALPINION's continuing goal is to distribute only the finest quality services to all medical practitioners.
There has been a remarkable focus on ALPINION's increased desire to shakeup the ultrasound market as it evolves into a representative market leader in Asia.