ECR 2008
Agfa HealthCare to present its CR portfolio
Agfa HealthCare presents its entire Computed Radiography (CR) solutions range at ECR 2008 in Vienna. From desktop and compact solutions to groundbreaking Computed Radiography systems that fill the gap between CR and DR (Direct Radiography), the company is able to offer its customers the right solution for every facility of any size.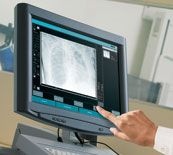 Agfa HealthCare's extensive CR family is composed of four leading solutions, all of which have been installed successfully around the world, delivering state-of-the-art solutions in the CR field:
CR 30-X:
The multi-application CR 30-X is a desktop, compact and convenient CR solution which is easy to install, use and maintain. The solution is ideal for decentralized environments.
CR 35-X:
The CR 35-X is a highly versatile digitizer that is specially designed for decentralized CR environments and that has a small footprint.
CR-85-X:
The 'do everything' CR 85-X is a multi-user digitizer, featuring a unique 10 cassette drop-and-go buffer that eliminates waiting times and maximizes productivity.
DX-S:
The advanced DX-S solution is a groundbreaking Computed Radiography system that has created a new threshold in CR. It fills the gap in the current range of Digital Radiography solutions, by providing a unique combination of image quality, potential for dose reduction, speed and flexibility that exceeds traditional CR solutions.
The original introduction of the DX-S in 2005 was a major milestone for Agfa HealthCare and, alongside the company's CR 30-X, CR 35-X and the multi-user CR 85-X, completed Agfa HealthCare's CR portfolio, allowing it to deliver systems that help meet the needs of facilities of any size.
David Lee, Superintendent Radiographer at the Bristol Royal Infirmary, Bristol, UK, who has actively chosen Agfa HealthCare's DX-S to meet the challenging imaging needs of trauma and orthopaedic cases, states: "We required an exceptionally flexible Digital Radiography solution enabling us to quickly and efficiently handle the wide variety of cases we see. I've worked with a wide range of products, but so far none of them has proved as flexible or as suitable for our requirements as Agfa HealthCare's DX-S. Its versatility means for example that we can manage the most complicated and demanding polytrauma incident with ease, and can then go on to deal with an orthopaedic outpatient's 'standing knees' challenge."
The Bremen Screening Unit in Germany, which provides mammography screening services to the approximately 880,000 inhabitants in the Bremen region, selected Agfa HealthCare's CR 85-X to meet its specific challenging needs. Dr. Arno Krastel, Radiologist and Program Manager, Bremen Screening Unit, states:"With its cassette buffer, the CR 85-X makes it possible for our technologists to work smoothly and efficiently, with no waiting times at the device. Images are available quickly. This creates a streamlined exam workflow and a high throughput. This also means that, as a screening unit, we can carry out exams for many patients, and work cost-effectively."
All Agfa HealthCare digitizers offer the intuitive
NX touch-screen interface
user station, the radiographer's image identification and quality control tool. They all seamlessly integrate with PACS, RIS and HIS that comply with current medical imaging standards.
MUSICA2
™, Agfa HealthCare's latest intelligent and automated digital radiography image processing software, is now available for the entire CR solutions range.
"It is exciting for us to be delivering solutions for the growing and vivid CR market, states Iskandar Accaoui, Business Unit Manager Digital Radiography at Agfa HealthCare. "As the healthcare industry moves from analog to digital to IT, CR systems have become an integral part of this transformation process, delivering digital solutions that allow for advanced clinical applications and improved workflow, at a highly attractive cost of ownership. Agfa HealthCare today has over 17,500 CR solutions installed across the world and its continuing success can only stand as a testimony
to our ability to deliver flexible solutions that meet the needs of every facility or specialized unit, of any size and complexity."
More on the subject:
More on companies: