Agfa HealthCare presents CR enhancements
Agfa HealthCare is presenting its complete range of Computed Radiography (CR) solutions at RSNA 2008. From desktop and compact solutions to the DX-S CR system that fills the gap between CR and DR, Agfa HealthCare offers its customers the right solution for every facility of any size.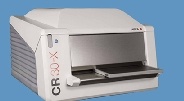 Each solution has been developed to meet the specific needs of the most challenging clinical and workflow demands and to improve the delivery of patient care.
Agfa HealthCare's extensive CR family is composed of four leading, state-of-the-art solutions, all of which have been installed successfully around the world:
CR 30-X: The multi-application CR 30-X is a compact and convenient desktop solution which is easy to install, use and maintain. The CR 30-X is ideal for decentralized environments.
CR 35-X: The CR 35-X is a highly versatile digitizer with a small footprint that is specially designed for decentralized CR environments.
CR-85-X: The 'do everything' CR 85-X is a multi-user digitizer, featuring a unique 10 cassette drop-and-go buffer that eliminates waiting times and maximizes productivity.
DX-S: The advanced DX-S solution is a groundbreaking Computed Radiography system that has created a new threshold in CR. It fills the gap in the current range of Digital Radiography solutions, by delivering high quality diagnostic images with significantly reduced patient exposure dose combined with speed and flexibility that exceeds traditional CR solutions.
MUSICA2 image processing, innovative next-generation technology
Each Agfa HealthCare CR solution enjoys access to top technology at every stage, including MUSICA2, Agfa HealthCare's gold standard intelligent image processing software. MUSICA2 software users will benefit from a simplified workflow in which the software analyzes the image and automatically applies the appropriate image enhancement parameters independent of the exam type. Unlike other image processing programs, MUSICA2 is unaffected by the presence of collimation or direct x-ray backgrounds in the image, leading to consistent, high-quality results. MUSICA² software will improve the overall visibility of clinically relevant structures, making especially low-contrast details more easily perceptible.
"We are proud to showcase flexible solutions that meet the needs of every facility or specialized unit, of any size and complexity," states Iskandar Accaoui, Global Manager of the Digital Radiography Business Unit at Agfa HealthCare, "More than ever we thrive to make digital imaging affordable for all. In the array of digital radiography solutions, CR remains a very powerful tool, with unbeaten flexibility and return on investment. The continuing success of our solutions across the world can only stand as a testimony to our ability to deliver improved image quality, improved workflow and improved delivery of patient care."

More on the subject:
More on companies: