Agfa HealthCare launches new digital mammography functionality within IMPAX™
At RSNA, Agfa HealthCare introduced a range of functional extensions for digital mammography reading and reporting applications on its industry leading IMPAX™ PACS platform. The company launched IMPAX 6.2 integrated with CAD and MRS® Reporting as well as showing a work-in-progress of a new software application that addresses the growing need for digital mammography screening.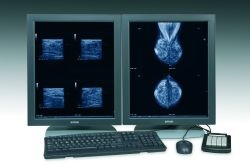 IMPAX continues to support the display of Mammography CAD through integrations with iCAD's Second Look® Digital and R2 ImageChecker® CAD image markers. It also has added features for improved workflow and messaging on CAD processed images. A wide range of hanging protocols as well as immediate, intuitive access to other relevant mammography studies - such as Breast MRI and Ultrasound - allow radiologists to perform all reads directly at their IMPAX workplace. Automatic access to prior mammography studies for ease of comparison is essential to the workflow and patient care. Agfa has further improved this critical element as well, to include efficient navigation tools for accessing prior mammography studies.
Furthermore, the MRS® Mammography Reporting systems integrated to IMPAX RIS/PACS/Reporting solution, which meets the MQSA (Mammography Quality Standards Act) requirements in the U.S. marketplace was introduced. Agfa HealthCare also showed a work-in-progress dedicated solution for digital screening workflows in local and multi-site organizations, in stationary as well as in mobile units, designed to enhance high speed screening workflows. It features a fully configurable active workflow support for double blind reading, and it can automatically trigger third reading when needed. Fast navigation, reading and reporting is actively enhanced by a special keyboard, containing keys to which specific tasks have been assigned. This solution is waiting FDA approval for sales in the U.S.
More on the subject:
More on companies: