Adding a new string to the radiologist's bow
MRI-guided highly focused ultrasound, facts and visions
ECR's Josef Lissner Honorary Lecture commemorates the co-founder of the European Congress of Radiology who passed away in 2006.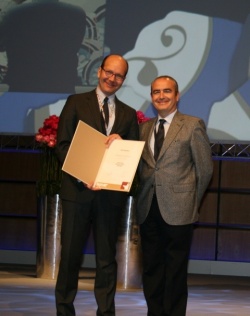 In recognition of his achievements in cardiovascular imaging and interventional radiology, Prof. Carlo Catalano was invited to hold this prestigious lecture. The professor of radiology and head of the department of diagnostic radiology at the La Sapienza University Hospital in Rome has acted as a leader in research on MRI-guided highly focused ultrasound.

"Identify – treat – control": Radiologists and their clinical peers should consider turning away from the linear treatment cycle to a closed-loop approach with identification of lesions, treatment, and control happening simultaneously or in parallel during an intervention, claimed Prof. Catalano. Numerous advanced image guidance methods are available today which allow for the optimization of target definition and for the safeguard ensuring success of a given procedure.

Ultrasound is a very good case in point, suggested the expert: it can be put to use in diagnosis as well as treatment. HiFu und MRgFUS, techniques allowing for the ablation of lesions based on highly focused ultrasound emitting high energy, have been applied to a rough total number of 10,000 cases during recent years. However, the usefulness of ultrasound for image guidance is restricted; MRI is the preferred technology to support interventions.
MRI and highly focused ultrasound – the perfect match.

Thanks to its richness in anatomic detail, MRI is helps to plan and control these interventions through 3D imaging and mapping. The hybrid approach has proved to be successful in the non-invasive treatment of uterine fibroids. A multitude of scientific papers have been published on the technology and its benefits, which typically include positive outcomes, lack of need to hospitalize, instant recovery, and support of fertility. Additional applications include treatment of bone tumours, with a positive influence on the restoration of bones; and osteoid osteoma, the conventional treatment of which produces pain; as well as abdominal tumours of, e.g., the liver and the pancreas, which used to be very difficult to target. Synchronization of breath has helped a lot to optimize ultrasound-based treatment of those conditions.

Further applications for the hybrid technology include breast cancer and, according to Prof. Catalano, potentially the most fascinating area – conditions of the brain. The technology has yielded very good results in cases of essential tremor; effects are immediate. Precise positioning as well as cooling are primary challenges for this application. Prof. Catalano's team hopes that, in future, Parkinson and many more applications will become part of the range of fields which will benefit from the new closed loop of treatment based on hybrid technology.