A new name and new focus
Medica Media has done a good job. For years, the section in the world's largest international medical trade fair has provided a meeting place for representatives from medical care, research and manufacturing organisations.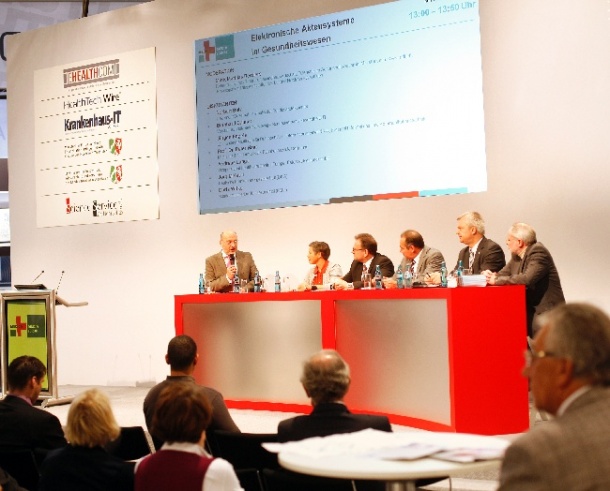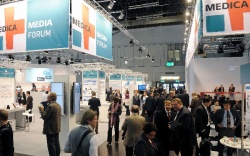 Now, however, the name and format is changing. Michael Reiter asked Dr Volker Hempel, the section's organiser, about the implications of change. 'Medical information and communication technology has been part and parcel of MEDICA for many years. Of the 4,571 exhibitors in 2011, 400 were from the health IT sector,' explained Dr Volker Hempel. Medica was quick to pick up on the globalisation of medicine, emerging in the mid-1990s through the first telemedicine projects. From 1998, the fair offered the trade symposium and exhibition, called Medica Media, Medical Information Systems and Telemedicine, following on from a preceding exhibition on IT practice.
'We address decision-makers and IT specialists from care provider, payer, academic, research, and vendor organisations. Our programme gives prominence to market trends from both the medicinal and assistive perspectives as well as from an economic point of view.'
Asked to describe the formats and key topics, Dr Hempel said, 'Most of our programme, now on two forums, is made up of onehour interdisciplinary panel discussions featuring prominent guests. The exhibition involves leading research and academic institutes. We'll be organising networking activities to help researchers find business partners; our continuing education programme combines face-to-face and virtual events in a brand new format. 'R&D Talent Awards are presented to up-and-coming researchers. This year we will run a major event on developments in mobile health (m-health) in cooperation with dotopen. The AppCircus is a platform for young developers to show their apps in a competition. Medica Health IT – Medica Media is also linked to the 'Future Care' event organised in cooperation with BITKOM and focusing on Germany's health ID.
Another important partner will be the American association CTIA – The Wireless Association. 'The telematics infrastructure, networked healthcare, and telemedicine applications have been key topics through the years. Last year, presentations at the European level finally started to draw a significant response. With mobile health attracting growing attention in care, our aim is to cover the entire innovative spectrum, particularly regarding points of contact with medical technology, mobile services and devices and emerging personalised medicine. Our focus is on e-health, m-health and p-health; we also take into account international developments and markets. Last year, more than 20% of our attendees came from abroad. We aim to make our forum even more international to encourage the best in their fields to discuss and present their results and products at Medica.
'The name change is to underline the fact that our forum is becoming a platform for all health IT. We'd like to provide a clear indicator of what we represent. As well as the shift in content, which began last year, we'll also be offering new formats and adding new sections to our programme, as described.'
2012 highlights
'We'll again be putting on a topclass show that really hits the spot – thanks to our advisory board, the Expert Circle, and their associated members. Our industry partners, such as BITKOM, CTIA, and HIMSS, will focus on new developments from an industrial point of view. The worldwide AppCircus show will add to our big event. Young developers, who register on the network and go through a pre-selection process, will present their health-related apps – live. The organisers have received more than 1,600 registrations from over 30 countries. We'll begin on the Wednesday with topics revolving around e-health – e.g. the use of telemedicine with critically ill patients, assessment of national and international telemedicine centres, EMRs and nursing records. Then, on Thursday, we'll discuss links to medical technology, e.g. in-vehicle medical technology, IT in the operating theatre, assistive technologies and best practice when it comes to technology transfer. The clear centrepiece on Friday will be mobile health, with applications in hospitals and practices at a national and international level. On Saturday we'll be presenting the R&D Talent Award.