Analyzer
A new generation of hemostasis instrumentation
Authors Guiseppe Lippi, Chiara Bovo and Emmanuel J. Favaloro offer a glimpse into a new generation of hematology analyzers and discuss the concepts of redesigning coagulation analyzers to fit the most important aspects of the preanalytical, analytical and postanalytical phases in hemostasis testing. The aim of this opinion article is to provide some personal ideas, based on experience and inclination, on how the next generation of coagulation analyzers may evolve in the near future (Figure 1).

Report: Giuseppe Lippi, Chiara Bovo and Emmanuel J. Favaloro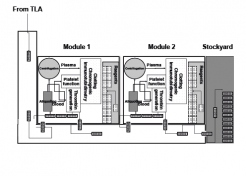 Introduction
Hemostasis testing, conventionally referring to the performance of in vitro diagnostic tests for screening, diagnosis and therapeutic management of patients with either bleeding or thrombotic disorders, represents a notable portion of clinical laboratory activity. A vast array of analyses are performed by the modern hemostasis laboratory in order to generate accurate and comprehensive diagnostic information. In general, hemostasis testing can be divided into first-line (or screening) tests, aimed to reveal any general impairment of primary and secondary hemostasis, along with second-line (or specialized) tests, which enable the accurate identification of the underlying cause(s) of the hemostatic defect.
First-line tests are therefore usually high-throughput analyses available to most clinical laboratories. The accessibility to second-line tests has been traditionally limited to specialized hemostasis centers for decades, but these analyses are now increasingly implemented in routine laboratories. Both types of processes require dedicated laboratory instrumentation, which include coagulation analyzers, immunochemical platforms, aggregometers and platelet function analyzers. With progression of technology, it should be recognized that the status quo is unlikely to remain stagnant.
General aspects
There are several 'general' considerations around which the next generation of hemostasis instrumentation might be designed. Indeed, the first important issue is represented by the evolution of laboratory diagnostics as a whole. Modern clinical laboratories are increasingly consolidated within networks or large facilities. This tangible revolution carries notable implications in the way laboratory resources are organized and tests ultimately delivered. The foremost consequence is that the layout of the future coagulation analyzers may be designed to fit small, medium and large laboratories.
To put it simply, rather than creating a vast array of different models of analyzers that can individually fit highly heterogeneous volumes of testing in different geographical environment, the use of modular instrumentation would enable simple connection of separate analyzers, with substantial savings in both human and economical resources. Automation has prepotently revolutionized workflow and sample management in modern laboratories. Several technical solutions exist that can be customized around specific needs of organization and testing volume.
Preanalytical sample management
The preanalytical phase conventionally includes all those activities related to collection, handling, transportation, preparation and quality check of diagnostic samples [9, 10]. Several lines of evidence accumulated over decades of research in this field, suggest that this phase is by far the most vulnerable to diagnostic errors. It is noteworthy, however, that the preanalytical and analytical issues pertinent to platelet function testing are still matter of ongoing discussion by many national and international working groups. Regrettably, no definitive indications for automated and standardized preanalytical consideration/stabilization of platelets are available.
Analytical testing
Since the early history of the hemostasis laboratory, coagulation analyzers have been mostly designed for running clotting tests. In recent decades, however, these instruments have become increasingly equipped with additional technical tools to perform a broader test menu for the investigation of bleeding and thrombotic disorders.
An important arena, that is currently inaccessible to most coagulation analyzers, is the exploration of platelet function. The current armamentarium of diagnostic tests in this field include impedance platelet aggregometry on platelet poor plasma (PPP), which is performed using traditional optical lumi-aggregometers, and innovative platelet function analyzers on whole blood, which generally simulate platelet adhesion/aggregation under high shear conditions and after stimulation with a number of platelet agonists.
In regards to technical perspectives, the integration of these techniques within a next generation hemostasis instrumentation is theoretically feasible, and has been explored in a limited manner in a newer hemostasis instrument, the Siemens CS-2100s.
Post-analytical sample management
The post-analytical sample management may be seen as critical as the preanalytical and analytical management in some circumstances. This specifically refers to repeated or reflex testing. Re-run of samples may be necessary when the analysis is to be repeated with suspicion of an analytical error or interference, or when the observation of abnormal values may trigger forward automatic testing. Reflex tests are those that automatically result in the order of one or more secondary analyses based on predefined criteria applied to the initial test. A typical example in hemostasis is lupus anticoagulants (LAC) testing. The second-line tests are manually activated in most laboratories.
Conclusions
The future of the hemostasis laboratory is currently unwritten and no crystal ball can accurately predict it. The challenge of coagulation analysis in the context of the widespread use of novel anticoagulants is a paradigmatic example.
According to ongoing reorganization of laboratory diagnostics around the globe, continuous technological innovations and predictable trends of disease prevalence, some basic ideas can be proposed to envisage how a next generation coagulation analyzer might be.
Indeed, most of the concepts expressed in this article are based on personal experience and inclination, but in the authors' opinion some of these may still be regarded as a reliable basis for future discussion, with the aim to improve quality of test and laboratory work-out as a whole, and meet the demands of
regulatory agencies.
This articel is an excerpt from:
Giuseppe Lippi*, Chiara Bovo and Emmanuel J. Favaloro: Reflections on the next generation of hemostasis instrumentation. A glimpse into the future? LaboratoriumsMedizin. Volume 40, Issue 1, Pages 1-7, ISSN (Online) 1439-0477, ISSN (Print) 0342-3026, DOI: 10.1515/labmed-2015-0087.