Article • Centralised image library and archive
From regional to national: digital pathology network transformation
Transforming a regional digital pathology network into a national programme across the UK has the potential to save the NHS around £100m a year. Such a network – one that sees a centralised digital pathology image library and archive, as opposed to individual hospitals having their own infrastructure and teams to manage it – can also offer a range of other benefits alongside significant cost savings.
Report: Mark Nicholls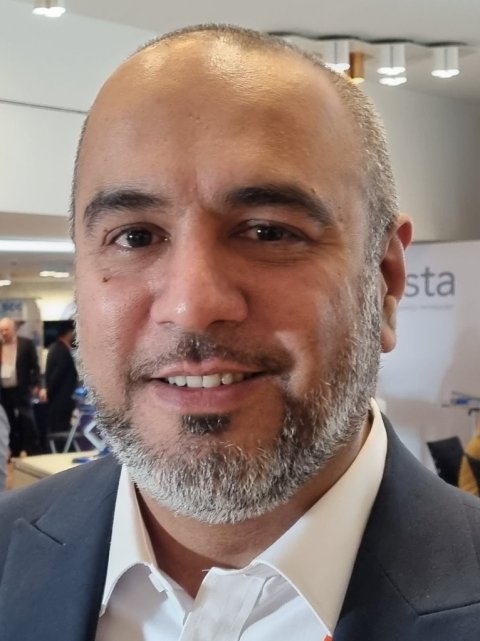 The savings potential was raised by Basharat Hussain, Deployment Director for NPIC (National Pathology Imaging Co-operative)* at Leeds Teaching Hospitals NHS Trust, as he outlined the opportunities and challenges of expanding a regional digital pathology network into a national programme across England. Speaking at the opening of the 9th Digital Pathology and Artificial Intelligence Congress in London in December, Hussain detailed how the NPIC grew out of the work of the renowned digital pathology department in Leeds.
That growth initially expanded the network across West Yorkshire and then into other areas of northern England before taking in the national paediatric pathology network, coordinated by Great Ormond Street Hospital in London, and the soft tissue network, including other hospitals in Birmingham, Manchester, Sheffield, Liverpool and elsewhere in the country. It is now one of the largest digital pathology and AI programs in the world, he said.
Increase in demand
Hussain reminded delegates that Leeds has been at the forefront of digital pathology for 20 years, having built the first gigapixel display for digital pathology (Powerwall), developed the Leeds Virtual Microscope and undertook academic research to drive clinical use of digital pathology in the NHS, as well as embracing AI.
Highlighting how the project developed, he said: 'Funding has been a challenge and we are working in a period of an increase in demand – with less pathologists being trained, and more nearing retirement age – so the experience has made us more aware of ongoing sustainability issues around pathology.'
The initial phases saw £10m of funding, with £7m in industry co-funding, to deploy digital pathology at six regional hospitals for 750,000 slides a year and 1.2 petabytes (PBs) of data, along with establishing a training and education centre.
Growing pains
That scope further expanded to cover 30 hospitals, 300 pathologists, up to 2.4m slides a year, and deploying over 40 scanners from the original 15, with 4PBs of storage, Hussain continued. He pointed out challenges along the way, including space constraint for scanners in busy laboratories, while other considerations included storage capacity and data transference to repositories, scanning magnification and image retention, the number of users to access the system, performance level expectations, procurement decisions, integration, the decision to opt for a separate software and hardware vendor and to adopt a non-Cloud solution.
Among the lessons learned, Hussain pointed out the production of the Leeds Guide to Digital Pathology, a how-to guide for others to learn the lessons of a massive digital pathology scale-up. Beyond that, he emphasises the need for scanners with DICOM image format, excellent connectivity, a strong PACS platform, and a robust and scalable operation.
Instant sharing for second opinions
The infrastructure is scalable to multi-exabyte levels and we have the potential to capture and store all WSIs across the UK and keep them for over 30 years

Basharat Hussain
The system sees patient samples processed in the laboratory with a glass slide created and transformed into a digital image that is ingested into the central infrastructure linked to the hospital, and is available to pathologists to access. 'The digital image enables the pathologist to make their diagnosis and to present to clinicians at multidisciplinary teams (MDTs) so the patient gets the right diagnosis and treatment,' he continued. 'The solution also enables second opinions as images can be shared instantly with pathologists hundreds of miles apart.' However, he emphasised that the solution had to meet certain requirements: it must align with the terms of a green UK-based data centre, offer adequate storage capacity, a long-term archive tier, disaster recovery, back up and scalability to give rapid time to value for NPIC customers. 'The scale up capabilities allow for growth of the platform as more trusts and organisations are onboarded,' he added.
Today, with dual data centres providing real-time replication and 20 petabytes of storage, the NPIC network has the capability to store seven million whole slide images (WSIs). 'The infrastructure is scalable to multi-exabyte levels and we have the potential to capture and store all WSIs across the UK and keep them for over 30 years,' said Hussain.
'There will be seamless site-to-site image sharing which is instantly available to hospitals in the NPIC network and we also have the potential to improve turnaround times for cancer diagnosis, faster deployment of AI capabilities, and continue with research capabilities – for example, the recent work with Genomics England to scan the 100,000 Genomes project – and support clinical trials. And, given the economies of scale, it could save the NHS £100m.' With plans to onboard all current NHS partners by the end of 2023, the aim is to continue with IT investment, improve archiving, and reach out to further regions that have expressed an interest in joining the digital pathology network.
Profile:
Basharat Hussain is NPIC Deployment Director at Leeds Teaching Hospitals NHS Trust, with a focus on driving the deployment of digital pathology across NPIC partner sites. With more than 15 years' experience in programme management across public and private sectors, he is a Prince 2 practitioner, Managing Successful Programmes (MSP) Practitioner, and has a BSc in Computing.
*National Pathology Imaging Co-operative (NPIC) is supported by a £50m investment from the Data to Early Diagnosis and Precision Medicine strand of the government's Industrial Strategy Challenge Fund, managed and delivered by UK Research and Innovation (UKRI).