50% more light but so cool
The new Chromophare D series from Berchthold is

"a superior innovation in 21st century surgical lighting technology".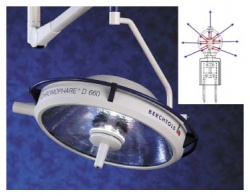 After two years in development and over 4,000 hours of testing, the Berchtold Reflective Illumination Technology (BRITe) is now featured in the new Chromophare D 660, D 540 and D 510 surgical lights. Upgrades to existing D 650plus, D 530plus and D 500 are also available. 'Through a unique internal bulb coating, our latest Chromophare surgical lighting series delivers more light in a cleaner, more uniform method than any other system on the market today,' Berchtold explains.
BRITe Technology bulbs offer 50% more total light while utilizing the same power as a standard 150 watt halogen bulb. This improved light field means crisp, focused, shadow-free light for:

Chromophare D 660: 17cm - 30cm spot, at up to 160,000 lux
Chromophare D 540: 17cm - 28cm spot, at up to 145,000 lux
Chromophare D 510: 17cm (up to 28cm optional) spot, at up to 130,000 lux
'And, it's not just bright...it's cool,' Berchtold emphasises. 'Even with a significant increase in available light to the surgical field, there's absolutely no additional heat emitted... keeping both your surgical site and surgical team cool and comfortable.'
BRITe Technology is on show at Medica: Hall 10 booth 42C.