IT & TELEMEDICINE
Presented and organised by ECR 2009 and European Hospital
New enablers for teleradiology: E-Marketplaces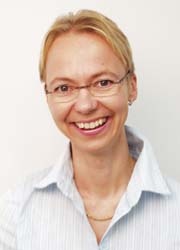 Dr Hanna Pohjonen is Associate Professor at Tallinn University of Technology, Estonia and the Finnish representative in the EU Health Telematics working party. She was also an Evaluator of the European Union Telematics Programme. From 2000 her own consultancy of healthcare IT, Rosalieco Oy, has carried out work in 20 countries in Europe, Canada, USA, the Middle East and Asia, specialising in big regional and national e-health projects.
The EU e-health initiative and action plan is the driving force behind building national e-health platforms to share patient information and network expertise. It was launched in 2004 and will be applied in its current form until 2010. This initiative encourages national level implementation of e-health and integrated healthcare provision across the EU.Ee-health platforms are being developed in several countries and financed partly by EU.
The cross-border availability of imaging professionals can be ensured using two tools: e-Marketplace for imaging (e.g. R-Bay) and a local workflow grid (internal marketplace). The e-Marketplace strategy is based on a concept of connecting healthcare delivery entities (public or private), which have needs to buy imaging related services with private reporting companies or public healthcare delivery entities which have extra capacity to deliver these services.
The traditional point-to-point teleradiology connections may gradually be replaced by the e-marketplaces. They offer a secure platform for the provision and consumption of imaging services by developing a new working environment for professionals and teams, a shared workspace for cross-border consultations and access to individual images and patient records.