When helpers need help
Violence from patients or their relatives is no longer unusual in hospitals, with A&E doctors and nurses particularly affected, as confirmed in the recent study Violence against Staff in the A&E Department.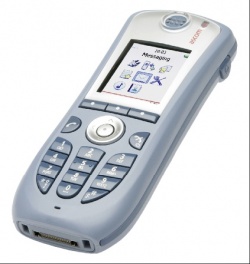 Working on behalf of Ascom, provider of onsite wireless communication systems, the management consultancy openConsulting GmbH evaluated responses to questions on specific topics from around 100 hospitals in Germany, Austria and Switzerland.
The survey included aspects such as frequency and type of assaults, the offenders, formalities and emergency technologies. The results paint a clear picture: 73% of all those surveyed complained about assaults in the preceding year, which ranged from vandalism in the A&E unit to scuffles or even blows and kicks. In a third of cases objects were thrown or specifically misused for certain assaults; weapons were also used. Alcohol misuse played a significant role in almost all cases of assault.
Relatives displayed a clear propensity for violence in more than 40% of cases. Unhappy patients made up a third of all offenders. When it came to the question of frequency, 43% of hospitals stated that the number of assaults had increased over the last two to three years.
Alarm technology is insufficient
When calling for support, large numbers of the affected staff use normal telephones on the wards, and more than half directly shout for help. 'We waste a lot of precious time because of the way in which staff are forced to raise the alarm,' explains Jörg Gebauer, managing director of Ascom Wireless Solutions for Germany, Austria and Switzerland. 'The affected members of staff have to start by finding a telephone, then dialling a certain number and providing precise information about their location and the situation. In stress situations this is not always easy,' he points out.'
Loud calling, frequently and repeatedly necessary, or even an acoustic alarm, are not considered the best options by safety officers. 'It's better to have a silent alarm and regulated de-escalation. A siren unsettles other patients and makes the offender even more aggressive,' explained the technical director of one of the surveyed hospitals. 'This practical experience also concurs with our findings,' Jörg Gebauer explains. 'Around 85% of assaults can be defused in time. However, this also means that in 15% of cases the situation becomes more or less out of control.
'The results of the study have confirmed to us that mobile alarm systems and communication can make daily hospital routine safer and also more stress-free for the staff.'
Manual or automatic alarm for more safety Victim
Modern mobile telephones for the hospital, such as the Ascom i62, have an easily accessible alarm button. An alarm can also be triggered if the device has not been moved or tilted for a predefined length of time, for example in situations where the victim has already been overcome.
In these situations it is very helpful that modern communication technology pursues the emergency concept automatically.
Locating the victim
In cases of alarm, mobile devices such as the Ascom i62 send out localisation information to the respective communication centres and/or to the mobile devices carried by people rendering assistance.
When an emergency call is received the alarm-PC immediately displays both an acoustic and visual alert, which is automatically transmitted as a group notification to specified mobile devices, such as the Ascom a71.
The alarm always includes information on the location of the victim. An intervention team can then immediately be deployed to the correct location.