Sponsored • Comfortable, fast and secure
Webinar: Quick Report and Image Transmission to the Referring Physician
With the medavis REFERRER PORTAL your referrers have easy online access to the reports and studies you created.
The web-based portal works with any RIS via standard HL7 interfaces to create a smooth workflow. Reports and images are automatically transmitted to the portal in the background as soon as you release them in your RIS. The referrers can then easily access their patients' data – from every device with internet access and a common web browser in the current version. Doctors without PACS can view complete studies in the integrated mobile image viewer. The user-friendly application is very easy and intuitive to use and does not require any training for the referrer.
The medavis referrer portal works with all usual medical communication standards: HL7, DICOM, XML, IHE. The platform relies on state-of-the-art web technology and ensures independence of infrastructure and systems. No matter how your IT infrastructure develops, the medavis referrer portal adjusts flexibly to the new requirements and earlier investments remain safe.
Innovative Functions
Integrated image and report viewer
Enables printing and downloading of patient details
Drag complete series in the image viewer in seconds
Images of all methods, MRI, CT, ultrasound, etc. can be displayed
Download of data in the original DICOM format, JPG or PDF
Automatic notification via e-mail when new reports are available
User-friendly search platform (patients, examinations, previous reports, result orientation, similarity search, personalized examination lists etc.)
Highlighted display of critical reports
Share functionality to share report and studies with patients or colleagues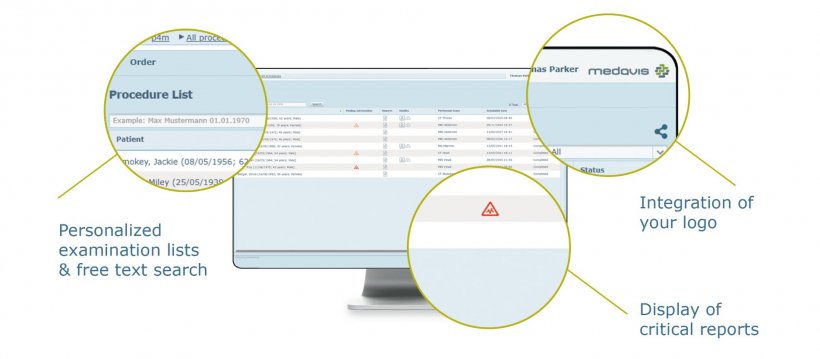 Highest Security Standards
The portal offers highest security to protect patient data with: HTTPS call, SSL encryption, system logout, event log, password guidelines, two-factor authentication.
Thanks to detailed access permissions and encrypted data transmission, you and your referring doctors always work transparently and secure with the sensitive medical data.
Join the Free Webinar
medavis will show you a live demonstration, explain all functionalities, walk you through the workflow and discuss use cases.
See for yourself how you can successfully use your report as a marketing tool to win new referrers, increase your patient volume and provide best service.
More on the subject:
More on companies: