USP Hospitales de Marbella
USP Hospitales is a prominent Spanish hospital group with a network of 31 facilities in Spanish cities. The group also owns a 25% share in Hospitais Privados de Portugal, the hospital affiliate of the Portuguese bank Caixa Geral de Depositos. USP Hospitales acts as a consultant for the bank's six hospitals in Lisbon, Oporto, Sanghalos, Lagos and Faro. USP Hospitales recently founded the company USP Hospitales Maroc, to launch new products in Morocco, whose government has invited USP to bid on a contract for 13 public sector hospitals.
The USP Hospitales de Marbella, built in 1975, became a member of the USP Hospitales group in 2003. Dr Eduardo de la Sota, our correspondent in Spain, asked Dr Mercedes Mengibar (right), General Manager of the hospital, what membership of this prestigious group means to her hospital.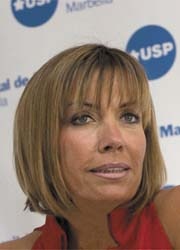 Dr Mengibar: For me, it is a privilege and a pleasure to be the director of a hospital that is a member of the USP Hospitales group, which is indisputably Spain's leading hospital group and, through it, we have begun making forays into the international sphere, in Portugal and Morocco.
Inasmuch as we benefit from the support of a major hospital group, USP Hospital de Marbella offers superb services in terms of quality, and compliance with standards, plus we're in the vanguard when it comes to medical equipment and hospital information system technology. Our patient records are fully integrated and digitised. We also offer advanced training courses for our staff on
an ongoing basis and regularly exchange information with various other hospitals.
USP Hospitales was founded by Gabriel Masfurroll, who is also the organisation's chairman and CEO. The company has a board of directors comprising a general corporate director, a director for Spain, a chief legal counsel, an international affairs director, a corporate marketing and communication director, and a corporate development director. USP also has an executive board comprising a corporate information systems director, corporate infrastructure and a technology director, a corporate human resources director, corporate finance director, and corporate strategic planning director. The board of directors for Spain comprises a medical director, nursing director, hospital director and a director for new products. These various boards provide each hospital with the requisite support, thus allowing for rapid integration into the hospital group and generating synergy that is beneficial for all concerned.
We are part of a corporate group, but it has a youthful and enterprising spirit, and every day it teaches us how to keep growing, and how to ensure that we're delivering clinical excellence and optimal healthcare. Being part of this organisation has also enabled me to become a manager, thanks to the generosity of Gabriel Masfurroll. The company's shareholder structure is as follows: 65% is owned by Cinven, a leading British equity fund, 25% by the founding manager team, and 10% by Caixa Geral de Depositos.

What distinguishes USP Hospital de Marbella from other centre?
It's been four years since USP Hospitales acquired USP Hospital de Marbella, and during that time we've remained true to our objectives, which are to offer a full range of quality healthcare services, personalised and caring treatment, and hotel services that allow for maximum comfort.
We excel in terms of the completeness of the healthcare services we offer, which are always provided in a personalised manner. We handle all cases, regardless of their complexity, in a manner that respects and takes account of a patient's individual needs and problems. In addition to personalised service we also offer healthcare on a multilingual basis. We have an Attentiveness to the Patient department, which visits all patients on a daily basis and which, for foreign patients, handles matters pertaining to repatriation and hotel stay extensions both for the patient and his or her family.

What main services does your hospital provide?
We have diagnostic equipment that integrates the latest medical technologies, thus allowing for virtual radiology examinations, as well as functional cardiology, endoscopy, neurological and neurophysiological investigations, among many others. We also have a complete array of therapeutic equipment – for haemodialysis, interventional radiology, therapeutic endoscopy, endoscopic surgery, minimally invasive traumatology, birthing, and so on.
We employ over 350 people, more than 125 of whom are healthcare professionals.

How would you characterise your patients?
About half of our patients are foreigners. During the winter months, the majority of our patients are from Spain and abroad; during the summer a predominant number of our patients are tourists, mainly from Spain (above all from Madrid and the Basque region), as well as foreigners, mainly from Britain and Germany. Many foreigners vacation in Marbella, so that they can have their annual checkups or undergo specific exams at our hospital.
During the summer, our patients during tend to be between the ages of 20 and 50, whereas from October to May most patients are 50–60 years old.

How do you recruit your medical staff?
One of our main operating premises is to recruit top notch healthcare professionals; towards this end we do not hesitate to invest financial resources and establish sufficiently complete teams that have the capacity to solve all problems, so that any patient who comes for treatment will be assured of receiving quality care.
Without a doubt, the strength of this hospital lies in its staff. We have selected top healthcare professionals who have a specific profile and are well trained, inventive, committed, and ethical, and have a professional attitude, as well as enthusiasm for and a systematic approach to our organisation. Our hospital is an exciting place to work, a place that allows for the delivery of
quality private sector healthcare and that is conducive to the professional development of its staff members.
Also, the Marbella region is a great location for a hospital. The city is conducive to a good work-life balance and has a quality of life that you don't find elsewhere.

What research is the hospital engaged in, and what are your future plans for this?
Our current research focuses on arrhythmia studies, cardiovascular risk factors, inflammatory intestinal disorders, foetal therapy, low-intervention birthing, and so on.
A great deal of this research is presented at conferences. For example, one of our staff physicians, Carlos O'Connor, an ENT specialist at USP Hospital de Marbella, attended the annual meeting of the American Academy of Otolaryngology-Head and Neck Surgery in Washington, D.C., where he presented his study 'Rescue snoring surgery with palatal implants after failed UP3', a field in which we are pioneers in Spain. This study was also published in the journal Otolaryngology-Head and Neck Surgery.

What about the hospital's future plans?
The Hospital Master Plan that we are currently implementing here entails an ambitious top to bottom remodelling of the hospital, which began in 2004 and will end in 2008. It involves refurbishment and modernisation of all elements of the hospital's facilities. Upon its completion, the Master Plan will have entailed a capital investment of some 30 million Euro.
We are currently remodelling the emergency, diagnostic imaging and haemodynamics lab area, as well as the arrhythmia and interventional cardiology area, and two in-patient floors.
We have also completely refurbished the intensive care unit (ICU) and the surgery department, which contains a six-bed critical and acute care unit that is divided into separate cubicles, to allow for maximum privacy, and is equipped with the most advanced medical technology. The surgery department has five operating rooms, a delivery room, postoperative recovery area, out-patient clinic, new sterilisation area, and a resuscitation room.
Remodelling of the remaining in-patient floors will begin soon, and once the Master Plan has been fully implemented, USP Hospital de Marbella will have an outpatient functional testing and medical consulting area, an obstetrics ward and an in-patient unit featuring 66 beds and four suites.
We will also implement the USP Plus concept, which involves offering patients, and people accompanying them, differentiated hotel-related services within the hospital. It will provide added value for all of our patients who opt for maximum comfort and quality services, in terms of both the hotel and installation. USP Plus patients will have access to personal transportation services, travel agency services, as well as special room services ranging from a selection of pillows to exclusive restaurant menus.
All of this is being done to achieve excellence in our services and maintain our position as a leading private healthcare provider in the Costa del Sol region.
Also in the pipeline: We will become a university hospital in a few years. Many of our staff members have PhD's and enjoy teaching, so I feel an affinity with them.

How would you characterise your management style?
Management according to values. We are in the midst of a process of change that involves not only our infrastructures but also another, slower process, which is cultural in nature.
This change is being realised via individuals, and in order to regard these individuals as being part of the process, you need to know what their values, beliefs and motivations are. The change will have to fundamentally involve emotions; for to a great extent, managing people is about managing emotions.
The experience of over 15 years as a team leader has taught me that the key to the success of a given project is when the professionals involved make it their own.
Towards this end, and via working groups of professionals at the hospital, we have defined our values, which are identical with those of USP Hospitals. Commitment: determination, involvement, respect, interest, a feeling of belonging, loyalty, fairness. Innovation: anticipation, inventiveness, problem solving, optimisation, and renewal. Dynamism: energy, optimism, efficiency, flexibility, initiative, excellence and enthusiasm. Personality: we are a united group of people who are excited about our project and have shared ethical values.

How does the staff adopt integration concepts, such as quality and efficiency, into their routines?
You can't have efficiency unless you have quality, because otherwise you end up paying a lot for low quality. We have adopted a strategy of 'doing a good job with the tasks we need to accomplish'. Continuous improvement of our daily routines has earned us AENOR UNE-EN ISO 9.001:2000 certification for over 80% of our hospital services,
namely admission/appointment reminders, inpatient services, emergency care, surgery/sterilisation, intensive care, radiodiagnostics, patient record management, billing, medical and administrative discharge processes, and the following support services: maintenance management, food service management, and laundry management. This certification will be extended next year to include our haemodialysis, neonatology, hospital pharmacy, and outpatient medical consulting services, which will mean that virtually the entire hospital will be certified.
We are also working on ISO 14.001 environmental certification, and we intend to continue moving forward in this area and plan on obtaining EFQM certification.
At USP Hospital de Marbella, we are aware that this is a process and we intend to move forward with the process of transforming our hospital into a continuous-improvement organisation and a learning organisation. Accreditation is crucial because we know that you only achieve quality through day by day effort, tenacity, commitment, and harmony; but also on the basis of each action, look and word from each and every member of our team, and by regarding each patient as a unique individual.
In addition, in 2006, for the second consecutive year, USP Hospital de Marbella won the
USP Hospitales Champions League, which is an intramural competition that assesses the performance and efficiency of each hospital and that integrates a benchmarking system with a view to exporting each centre's best practices.

What is your view of the current healthcare situation?
Spain has a publicly financed universal healthcare system that provides advanced technology and a high level of expertise, and delivers the same quality services throughout the country.
The past decade has seen the emergence of private healthcare that delivers quality services from a clinical and technological standpoint. USP Hospitales is part of this movement, and we are anticipating increasing demand. In reality, it doesn't matter to people whether their healthcare comes from a public or private sector provider. What they want is a quality system that works well, that provides services rapidly and that doesn't have long waiting lists.

Is there anything else you'd like to add?
I'd also like to say a few words about our unwavering commitment to social solidarity and our efforts to integrate the hospital into the community. Through our non-profit foundation, known as USP Fundación Alex, USP Hospitales, we work with various institutions to help the disabled. It was established in June 2006 to promote and catalyze research, training and education in healthcare sciences through social action projects, particularly those aimed at children and the disabled.
Our foundation's two main areas of activity are social action and social education, which are united under an umbrella that is associated with two key concepts, namely health and childhood.
Our hospital, and the other group hospitals, participate periodically in various social projects that are realised via this foundation, including the following: 'Messi's best goal: a dream and a life', which involves performing surgery in Barcelona on children from Argentina (in collaboration with the Fundación Leo Messi and Fundación Pequeño Deseo); integration of the disabled into work situations at various group hospitals (in collaboration with Aura and Assido); performing surgery in Seville on African children (in collaboration with Tierra de Hombres); providing support for Hospital de la Fraternidad de Chinguetti in Mauritania.
We also partner with charitable tournaments and provide hospital material and medications for Proyecto Pará, a project that aims to build a hospital and school in the heart of the Amazon rainforest. We also collaborate with the Talita Foundation, on campaigns such as Unicef's 'Unite for Children. Unite Against Aids', and we support and work with numerous NGOs such as Marbella Voluntaria, Aldeas Infantiles, and so on.
Our foundation also has a Spanish language website (www.fundacionalex.org) giving information on its activities.