Underway: The Eurosafe Imaging Campaign
It was long overdue: Seven years after the arrival of the USA's Image Wisely and Image Gently Campaigns, a European campaign for greater radiation protection in diagnostic and interventional imaging has arrived.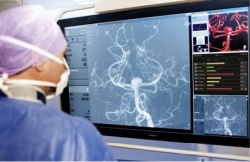 Initiated by ESR President Guy Frija, and launched at the 2014 European Radiology Congress (ECR), the Eurosafe Imaging Campaign seeks appropriateness in medical imaging, optimisation of radiation doses based on diagnostic reference levels and the ALARA principle for further dose reduction without loss of image quality, and more.
Imaging diagnostics exams increase annually. In 2008, 3.6 billion exams with ionising radiation were performed worldwide. Statistics show the EU radiation exposure rate per head has almost doubled in two decades, mainly due to CT exam increases.
The European campaign aims to cooperate with specialist associations, lobbies, the healthcare industry and others, to improve patient safety and achieve a wide coverage. Poster presentations at the launch showed efforts towards better radiation protection (appropriately in the M-Building at the UN Office, close to the International Atomic Energy Agency (IAEA) area). Organisations focusing on child safety during CT exams presented numerous posters; the industry posted only five. Is radiation protection still in its infancy for this group?
Izabella Dantas, Global Marketing Director of Unfors RaySafe, calls for more industry support: 'The Eurosafe Imaging Campaign offers the optimal framework for better promotion of the subject of radiation protection and improved safety in the X-ray examination room. Unfors RaySafe did not hesitate in joining this campaign as changes in behaviour and awareness can only be achieved with joint forces.'
This Swedish firm (acquired in February 2014 by Fluke Biomedical) is among market leaders in radiation protection. Its CEO, Magnus Kristoferson, is proud of its campaign support: 'It fits perfectly with our company's philosophy'. Unfors RaySafe measurement devices ensure diagnostic X-ray machines work according to regulations and radiation doses are set correctly. In 2012 the firm launched its RaySafe i2 solution for real-time dosimetry for medical staff and, in 2013, with RaySafe S1 software for dose tracking in patients. 'All three business segments are equally important,' Izabella Dantas points out.'However, we're currently seeing a gradual sensitisation among the public regarding radiation protection for patients and medical staff. Public awareness is increasing due to the increase in radiation exposure,'
RaySafe S1 offers an easy to integrate, software solution that records when and where a patient was exposed to radiation and at what level, thus preventing repeat exams far more effectively. It also helps to query the indication for an examination and show alternatives. Dantas: 'When a doctor requests an examination, the software offers a comprehensive decision aid, based on detailed patient data and also diagnostic reference levels,' she says. 'The software therefore offers safety and transparency – important for patients as well as the hospital because, if a department does not work as it should, that becomes apparent at this stage and can stimulate further thought as to how standards can comply with going forward. The use of RaySafe S1 facilitates individual dose optimisation for each patient and therefore an increase in productivity for the entire hospital.'
Staff protection is the third part of the solution for radiation protection. With RaySafe i2 their radiation exposure is tracked in real-time and they can act, e.g. use an additional protective shield or change position in the room. 'The wearing of a second, active dosimeter over protective clothing is specifically recommended by the IAEA. Philips equipment for cardiovascular intervention already integrates real-time dosimetry in the system and Siemens Healthcare now offers integrated real-time dosimetry for selected X-ray systems. Obviously, Unfors RaySafe wishes to achieve such integration with all industry partners to ensure real-time dosimetry becomes an industry standard,' Dantas says.
The campaign will expand its scope and make E-learning, criteria for safe radiological examinations and further radiation protection sessions available at congresses. The ECR's Dedicated Radiation Protection session was packed. CEO Kristoferson: 'I had trouble getting in – no free seats were left. This initiative has met with more response than the organisers imagined in their wildest dreams.'