Tissue oxygenation
Continous, non-invasive tissue oxygenation and monitoring during resusciation.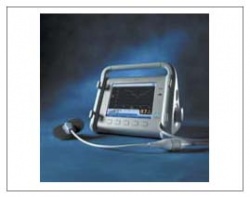 The InSpectra StO2 Tissue Oxygenation Monitor, produced by the Dutch firm Hutchinson Technology Inc, provides a continuous, non-invasive means of assessing tissue oxygenation and monitoring it during resuscitation. The company reports that the equipment was designed and tested for trauma use, and it provides a direct, absolute measurement of haemoglobin oxygen saturation in tissue (StO2). In addition, it is
Noninvasive – The adhesive-backed InSpectra StO2 Sensor attaches easily to the patient's thenar eminence.
Quick – its monitor provides readings 20 seconds after start-up. No calibration is needed.
Continuous – The monitor provides a continuous numeric reading and a trended display.
'The InSpectra StO2 System is the only tissue oxygenation monitor designed for trauma environments. It uses near-infrared light to illuminate muscle tissue. Light returning to the InSpectra StO2 Sensor is analysed to produce a direct measurement of oxygen saturation in the microcirculation, where oxygen is exchanged with tissue,' the manufacturer explains.