The Symetis Acurate TA Aortic Bioprosthesis and delivery system
A new transcatheter aortic valve implantation (TAVI) system for transapical treatment of severe aortic stenosis – Acurate TA and delivery system –is a second- generation TAVI device to treat elderly patients. Launched by the Swiss firm Symetis SA, the system gained CE approval last September is on sale in Europe.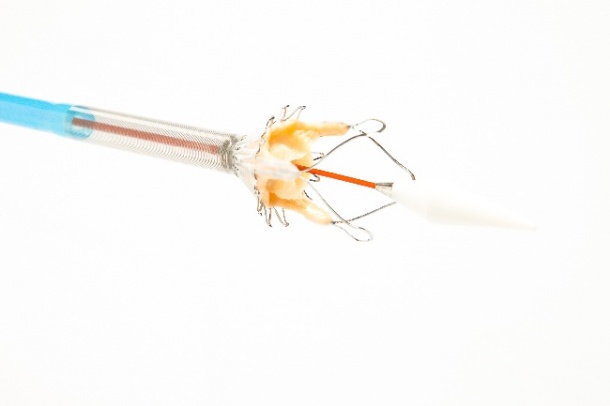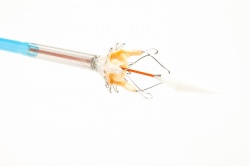 The Acurate TA Aortic Bioprosthesis is composed of a non-coronary leaflet surgical-quality porcine tissue valve sutured into a self-expanding nitinol stent that is covered with a PET skirt on both the interior and exterior of the device. The bioprosthesis is selfaligning and can be re-sheathed until final deployment.
Available as small, medium and large, the Acurate TA delivery system is a single operator catheter designed for easy implant positioning within the native annulus followed by a swift, two-step deployment. Compared with other TAVI systems, the manufacturer points out, the implantation procedure accompanied by tactile feedback facilitating release in the correct annular position, translates into a shorter learning curve compared to other TAVI systems currently on the market or still in clinical trials. In addition, '… the robust clinical dataset of 90 implanted patients allows for comparison of the Acurate TA to published statistics from first generation TAVI devices suggesting comparable or improved initial outcomes,' Symetis adds.
Clinical Experience
Between November 2009 and July 2011, Symetis sponsored two clinical studies of the new TAVI system in Germany: TA FIM (n=40) and TA Pilot (n=50). Both studies were single-arm, prospective, multicentre trials that enrolled high-risk patients with severe aortic stenosis (AS).
The combined cohort consists of 90 patients with severe, symptomatic AS who were enrolled at six investigation centres. The midterm outcomes (six months) are available for the combined patient cohort. The long-term follow-up data at one year is available only for the 40 TA FIM patients.