The new IMPAX Solution Suite
Agfa Healthcare's new IMPAX solution suites offer PACS and RIS to cover hospital data handling and cardiovascular, cardiology, orthopaedics, mammography and radiology data.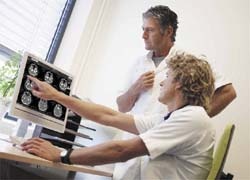 The firm's Enterprise Suite, for example, was designed for the multi-site hospital and Integrated Healthcare Delivery Networks operating in multi-patient ID domains. The system is driven by Agfa's Data Centre, a multi-media archive for medical images and diagnostic results. Other applications in the new IMPAX series include:

Virtual Colonoscopy: This non-invasive CT colonoscopy clinical application produces a complete (supine and prone) CT colonoscopy data set in about 20 seconds. No user interaction is needed before diagnosis begins. Lesion detection takes place in a clinically relevant, user dependent, pre-defined layout. Automation ensures maximum productivity and streamlines results sharing.

Registration and Fusion: Easy-to-use automated tools and single mouse click make the comparison of high-res images effortless. The application supports the comparison of images from the same image types (for example CT to CT and / or MR to MR for follow-up studies) as well as in multi modality cases (e.g. CT to MR). Besides supporting X-ray images, the software also supports nuclear medicine by means of the registration and fusion of PET with CT and/or PET with MR.

OrthoGon: Agfa reports that this advanced measurement tool, for orthopaedic (Orthopaedic) and paediatric (paediatric) specialists, eliminates the need to perform manual measurements because it has an intelligent wizard. This 'guides the physician through complex measurement schemes and compares results with normative values. Results can be saved as images and proprietary records in PACS, printed as reports, or exported for further processing'.

X-ray Angio Analysis: Diagnosing peripheral arteries and angiograms requires dedicated image processing and analyses. The application provides a comprehensive package for reviewing vendor independent DICOM X-ray Angio (XA) CR and RF diagnostic images in the radiology domain. The application key functionalities are Digital Subtraction Angio (DSA) and quantitative analysis of lesions and morphologies. The package offers three types of analyses: Straight, Bifurcation and Ostial. The creation of reports for hospital-wide distribution is supported.

IMPAX RDS: Agfa reports that the application enables radiologists, and other specialists, to access the world's most comprehensive radiology database of diagnoses, case examples and images. Integration with the IMPAX system allows automatic results filtering based on anatomical region, improving both speed and diagnostic confidence.
More on the subject:
More on companies: