Sponsored • The benefits of making hospitals smart
The IoT mesh network
Refining hospital processes saves costs, improves workflows and patient care plus outcomes. To realise those aims, a hospital in the Netherlands has installed an Internet of Things (IoT) mesh network.
A pilot project initiated by a Dutch children's hospital has enlisted an entire ward as an IoT playground, to experiment with various type of tags, sensors and switches in a 'mesh network'. This specific solution offers significant advantages over conventional mesh network technologies; it provides the ability to construct highly scalable, high-density networks of connected devices without any interference to medical equipment.
Asset tracking

The hospital's initial focus was tracking equipment: beds, incubators, infusion pumps are among many items that 'go missing', despite good organisation. Locating lost gear drains medical staff time. IoT tags, sometimes referred to as track/trace modules, can attach to anything. Location data can also be used for stock control, for example alerting Facility Management when stocks are either too low or too high and re-location is required. Sensors can signal the need for washroom towel replacement, or alert about liquid spilled on a floor, etc.
Unlimited assets can be added to, or removed from, a mesh network, without maintenance. Asset tags simply reroute the information. Historical data can also be used to optimise the flow of assets. Heatmap apps enable visualisation and alerts to congested areas, e.g. hallways.
Smart lighting and switches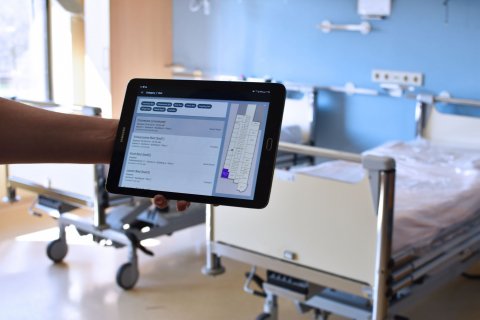 Light is important for patient well-being and staff productivity, as well as energy conservation. The IoT solution encompasses a connected, intelligent lighting system, which combines low-latency operation for light control with the high data rate network, to capture data from various sensors. Sensors capture key data about their surroundings, such as occupancy, motion and air quality. They can last for years within this network thanks to the ultra-low power mode of connected devices.
At the Dutch hospital, smart LED lighting fixtures act as anchor nodes in the mesh network, through which the battery-powered mobile tags communicate their positions. This solution proved no more expensive than a normal LED lighting upgrade. Being mains-powered, the lighting provides a very low latency network that makes it simple to extend the scope of IoT applications running on it.
By integrating energy-harvesting wireless switches, the energy produced by pressing the button is enough to switch the light, or call for assistance, a bed, or any other need. A bonus: the lighting also offers daylight compensation, smart grouping and lighting plans based on presence or personal preferences. Presence sensors provide occupancy data, enabling further efficiency savings.
Environment monitoring
The aim is to create ideal conditions and an environment in which staff can work and patients feel good. Implementation of the solution is a very small step to add an additional layer for environment monitoring. Full insight in environmental conditions, and thus control, has been gained by equipping nodes with temperature sensors and putting CO2 sensors in place – even the hospital fridges are equipped.
Wayfinding
Hospital mapping is another significant challenge. Navigation and wayfinding are currently photo-based. However, by including beacons in the IoT, mesh nodes can transmit standard Bluetooth beacon messages to indoor mapping and navigation apps. The mobile application gives users accurate positioning in real-time on their mobile phone, along with wayfinding and turn-by-turn navigation.
The Dutch hospital has just embarked on a winning journey.
Source: Fujitsu Components Europe B.V.