News • Wayfinding study
Virtual reality might help reorganise hospital layouts
With support from a research grant from the Academy of Architecture for Health Foundation, a West Virginia University researcher is leading a study that will help address the functional complexity of large hospitals.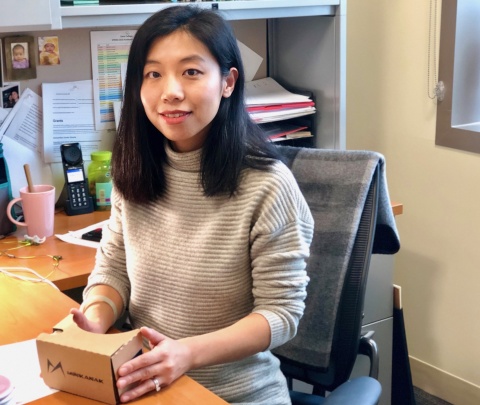 Shan Jiang, assistant professor of landscape architecture in the School of Design and Community Development, and her research team will utilize immersive virtual reality technologies to conduct a study focused primarily on hospital wayfinding. "The functional complexity of large hospitals can often lead to spatial disorientation and wayfinding difficulties for its patients, often exacerbating a situation that is already anxiety-producing," Jiang said. "Visual engagement with nature, which has been proven therapeutic, has been hypothesized as playing the roles of wayfinding cues and facilitating spatial cognition in healthcare complexes."
Jiang will collaborate with two consultants from Clemson University – Davis Allison, professor and director, and Andrew Duchowski, professor – as they examine the design of hospital circulation spaces with transparent connections and views in relation to individuals' spatial orientation and wayfinding performances. Additionally, they will explore the individual's environmental experience of visual engagement with nature in hospital circulation spaces, as well as the use of Immersive Virtual Environment technologies as complementary methods and tools in healthcare design research.
Our larger goal is to help fill a significant knowledge gap

Shan Jiang
The research study participants will complete various wayfinding tasks in fully immersive virtual hospital environments. "Participants' eye movements will be tracked and analyzed, and a series of variables will be measured to compare the time consumed to complete the tasks and the route selection," Jiang explained. "Participants will also take surveys to report their sense of direction, and their navigation strategies will be analyzed through cognitive mapping."
Since few studies have been conducted and very little data collected in this particular area, the benefits of Jiang's study will extend beyond the scope of the project itself. "While results from the study will be translated to immediate design recommendations intended to help guide the layout of various spaces in complex hospital designs, our larger goal is to help fill a significant knowledge gap," Jiang said.
According to the Academy of Architecture for Health Foundation, Jiang and her team's research proposal, titled "Visual Engagement with Nature and Spatial Cognition: A Study of Hospital Circulation Spaces through Immersive Virtual Environment Technology," was selected among multiple high-quality proposals submitted in the current awarding cycle.
The mission of the Academy of Architecture for Health Foundation is "to support the Academy of Architecture of Health and to enhance the knowledge and effectiveness of those who create healthcare environments through the funding of critical educational and research activities." To that end, AAHF supports research that will contribute to the healthcare design practice through its "useful and pragmatic information related to ambulatory care work environments, to the integrated project delivery process (and) international healthcare." The first portion of the grant funding has been initiated; the final portion will be awarded after the submission of a final report in January 2019.
Source: West Virginia University