MEDICA 2016
The international health industry comes to Düsseldorf
Decision makers from all sectors of the international health industry meet again in Düsseldorf from Monday to Thursday. The world's biggest medical trade fair, MEDICA 2016, and COMPAMED 2016, as the international leading trade fair for suppliers of the medical technology industry, take place from 14 to 17 November.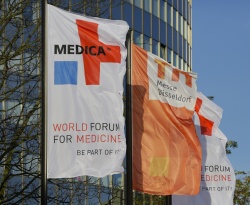 For the first time, over 5,000 exhibitors from 68 nations will be attending MEDICA (2016: 5,112, previous year: 4,977). COMPAMED, which takes place on the same dates, has also broken its own attendance record, with 774 exhibitors from 37 countries, compared to the previous year's attendance count at 773. MEDICA and COMPAMED occupy all 19 halls of the Düsseldorf exhibition space. MEDICA is one of the ten largest trade fairs worldwide and across all industry sectors.
"80% of the MEDICA floor space booked by exhibitors has gone to international stakeholders. The biggest floor space bookers come from Germany, Italy, China and the USA, followed by France, the UK, Turkey and South Korea", detailed Joachim Schäfer, CEO of Messe Düsseldorf, emphasising the highly international nature of the fair, proving that the event has international significance.
Our professional visitors have an infinite variety of choice available to them in terms of the innovations exhibited at this event. The MEDICA exhibitors show the full spectrum of products and services for modern health care in doctors' practices and hospitals - from laboratory technology to physiotherapy and orthopaedic technology, commodities and consumables to electrotherapy, medical technology and health IT. "No other event in the world offers this comprehensive overview of the newest medical products and developments", states Horst Giesen, Director of MEDICA and COMPAMED, summing up the trade fair and going on to mention a trend that has resulted from this current, specific dynamic: "the digitalisation wave is really taking hold in the health industry, and in almost all medical disciplines, as well as in the processes implicated in the outpatient and hospital sectors. This digitalisation has an impact on both the doctor and the patient".
Specifically, Mobile Health solutions provide an enormous array of innovations, which can be seen at MEDICA 2016. One such innovation are Wearables, as well as smartphones used with specific health apps and the associated hardware. Whether you're looking for transducers for ultrasound, EKG electrodes or a lancing device for blood glucose measurement, the list of accessories that instantly turn an android or iphone into a device for professional medical applications is growing longer and longer.
The Wearable Technologies Show in Hall 15 holds an excellent selection of small "all rounders" in store for MEDICA visitors. To give a small example of the exhibited items, there is a wearable patch for monitoring asthma, a waistband clip which stops period pain and a bracelet which functions as an early warning system for epileptics.
Diverse conference programme - an expert magnet
The various conferences from the accompanying programme of the MEDICA provide incisive and day to day medical expertise for various target groups. The MEDICA MEDICINE & SPORTS CONFERENCE focuses specifically on sports medical specialists, for example. It covers the use of wearables for monitoring of vital signs and injury prevention, among other elements. However, the topics of this conference is not applicable solely to sport. The conference will also discuss the general possibilities for increasing physical and mental performance capacity. In one session, the methods for training Luftwaffe pilots to the very high level of requirements which have arisen since the change to the one-man Eurofighter jet will be detailed. The star guest at the MEDICA MEDICINE + SPORTS CONFERENCE is the six-time Paralympic champion Andrea Eskau.
At the interdisciplinary MEDICA EDUCATION CONFERENCE, each of the four conference days will have a different focus for its content, with each focus being oriented towards link building with the trade fair with a high level of technical coverage. The following are under the spotlight: Surgery and new operational techniques (16/11), imaging, endoscopy and interventions (17/11), geriatrics, nutritional medicine and palliative care (18/11) as well as infectology, infection and laboratory medicine (19/11).
Expertise for made-to-measure solutions - you dream it, we deliver it!
This year, the COMPAMED will take place in parallel to the MEDICA in Halls 8a and 8b (Wednesday through Friday) for the 25th time. Here, the following participants can be found once again: The developments of the suppliers can be of tremendous importance for improved out-patient and clinical care.
Several examples of this are shown in an overview of current trends and product innovations. In general, the medical technology in demand is becoming smaller and more cost effective and, in more and more cases, is fitted with "linking options". From COMPAMED exhibitors, suppliers are seeking more advanced, lighter components, elements, chips, radio modules and even accompanying energy savers or information savers, which also have an improved performance specification. In addition, the subcontracting and outsourcing of services for all elements of the process chain (R&D, production, supply chain management, quality management, spare parts handling, etc.) are continuing to increase in importance.
MEDICA and COMPAMED are targeted at specialist experts and entrance to both is gained via a single ticket. Last year, we achieved a total of 130,000 visitors, with 19,000 being specifically interested in the topics that COMPAMED focused on.