Article • Medica 2018
The Czech med-tech market is thriving
The Czech Republic has a long tradition of ground-breaking medical innovations. At Medica 2018, the presence of Czech companies and traders underlined that medical devices and technologies from this country have continuing strength and value.
Report: Mark Nicholls
Having recorded steady growth over the past few years, the Czech medical technology sector now produces a volume of around €870 million. 13,400 people work in this field and 35 percent of the high-end products manufactured are exported. The Netherlands, Belgium, Austria and Germany are major importers of those goods.
The Czech government considers the development of new pharmaceuticals for treatment and diagnostics a priority and, over the past ten years, has provided €2.5 billion in funding to strengthen the infrastructure of the sector. This indeed has promoted the establishment of new facilities, be it hospitals, laboratories and other healthcare organisations led and financed by private investors.
According to the most recent yearbook of the Czech healthcare system, in 2016 there were 189 primary care hospitals with approximately 58,200 beds, 126 specialised clinics with 17,800 beds and roughly 27,600 out-patient facilities and doctor's offices. In 2016, almost 2.5 million people received hospital treatment there. Roughly one sixth of all beds are operated by non-public organisations that lay great store by modern medical technology equipment.
A third of all imports originate in Germany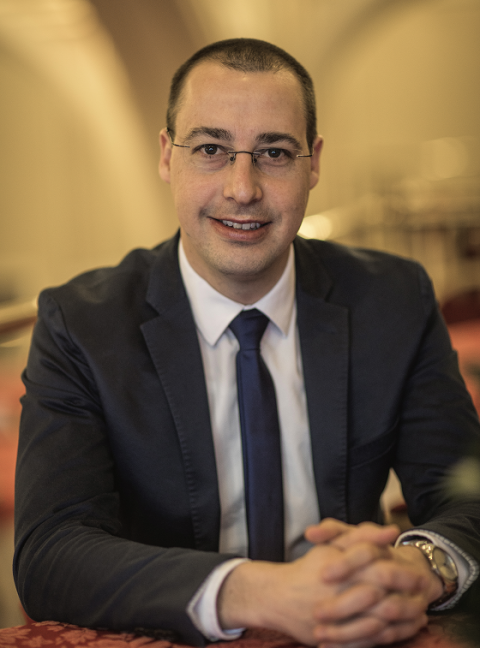 International manufacturers also benefit from the favourable market situation. Czechia imports a large percentage of its medical technology, above all electro-medical devices. The import volume amounts to more than €1 billion per year, including those devices that are further processed and re-exported. A large import demand is usually recorded for ventilators and orthopaedic aids but also for supplies such as syringes, needles, catheters and cannulae. Many hospitals often prefer imported goods.
Germany is the most important trading partner of Czechia and the country's most important investor, followed by Japan, South Korea and the USA. 'The Czech Republic presents itself as an attractive location for production and commissioned research and development. The evolution of the sector is facilitated by effective patent protection, the adoption of GMP, GLP and GCP standards, comparably few restrictions on genetic technology and a government that supports knowledge transfer between science and industry,' Barbora Racan Jezkova, Regional Director DACH at CzechInvest, points out.
Germany is by far the most important export market for Czech med-tech companies: 32 percent of all exports go to the neighbouring country. 'Many export-oriented Czech companies look to the German market for their innovative healthcare solutions, from medical technology through to medical supplies and services,' adds Adam Jareš, Director of CzechTrade, the Czech Agency for the Promotion of Trade in Germany. Both agencies act for the Czech Ministry of Trade and Industry: CzechInvest supports foreign direct investment while CzechTrade assists Czech companies wishing to expand into foreign markets.
Czech medical technology at Medica 2018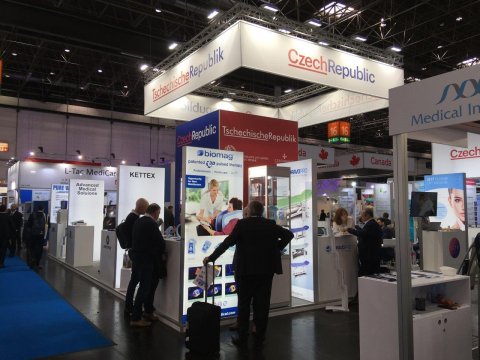 Jareš coordinated the participation of 48 Czech companies at Medica this year. Biomag presented a 3-D pulsed magnetic therapy; Eyrina introduced a semi-automatic non-mydriatic fundus camera; in the Czech Republic Special Medical Technology manufactures devices for electro- and cryosurgery, with a broad range of applications in many fields; Synthesia produces naturally-based oxidised cellulose for biomedical and technical use, which is marketed under the brand name OKCEL. VUP Medical focuses on implantable and non-implantable medical devices; Watek Technology produces ultra-clean water primarily for medical, laboratory and pharmaceutical industry use; Compex/Jett Medical manufactures the first patented direct current plasma device to examine skin; Global Biomedica develops and manufactures titanium spinal and orthopaedic implants using innovative industrial 3-D printing technology; Kettex Development manufactures a video endoscope system for urological examinations; Advanced Medical Solutions develops, manufactures and sells diagnostic and therapeutic devices that include portable ultrasound and occlusion plethysmography with powerful software for arterial, venous and lymphatic diagnostics.
A history of global success
Linet is one of the most innovative enterprises, comparable to brands such as Ferrari or Coca-Cola

Adam Jares
Today, few people are aware that it was a Czech, Jan Jánsky, who established in 1907 the four blood types, or that the Czech chemical scientist Otto Wichterle made the first contact lenses in 1961. Better known might be Czech scientist Antonín Holý, the first to synthesise Tenofovir, today one of the most frequently used drugs for HIV treatment and prevention. But Czech companies hold many more records: more than 30 percent of the worldwide production of electronic microscopes are supplied by three companies in Brno: Thermo Fisher Scientific (formerly FEI), TESCAN and Delong Instruments. They benefit from the fact that today Brno is home to twelve institutes of higher learning.
Moreover, the Czech Republic is the worldwide second largest manufacturer of acute and long-term care beds. The best known medical technology company is the Czech-German Linet Group SE, headquartered in Dordrecht, Netherlands, and operating production sites in Wickede (Ruhr), Germany, and in Slany and Frycovice in the Czech Republic as well as sales organisations throughout Europe and the USA. In fiscal year 2017/18, the group generated revenues of about €252 million; with 90,000 hospital beds the company is a leading provider in Europe. The portfolio includes acute and intensive care beds as well as beds for long-term and nursing care, gynaecology and surgery chairs. 'Linet is one of the most innovative enterprises, comparable to brands such as Ferrari or Coca-Cola,' Jareš explains, adding, 'The greater part of the production volume is exported to more than 100 countries worldwide.'
With more than 22,000 products on offer, MEDIN is one of the largest manufacturers of medical instruments in Europe. Today the portfolio covers four main product groups: traumatology, surgery, orthopaedics and dental medicine. Traumatology implants and instruments are designed for osteosynthesis in the context of severe trauma treatment. The product range encompasses nails, plates, screws and smaller implants. An important category are patented products, the calcaneal nail C-NAIL and the OMEGA pelvic plate. The company also offers full instrument sets for certain surgical interventions. More than 50 percent of the revenue is generated by export, particularly to countries in Europe, Latin American and the Middle East.
Profile:
Political science graduate from the University of West Bohemia (2006) Adam Jareš is today Director of CzechTrade, the government-run agency of the Czech Republic that promotes trade in Düsseldorf, Germany. His task is to stimulate international trade and cooperation between Czech and foreign business enterprises. Before this, he was a representative of CzechInvest in Cologne. Jareš was also an assistant member of the federal assembly in Berlin and headed the Eurocentre in Pilsen, an institution that gives out information about the structure of the European Union.