The Fresenius Inventors' Prize
If something doesn't fit we make it fit, and if it doesn't exist we invent it: Pragmatism combined with imagination and idealism are the foundation stones of groundbreaking inventions that improve daily life in medicine.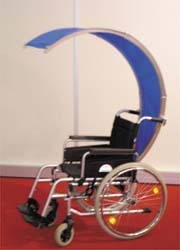 This was confirmed at the Fresenius Inventors' Fair at this year's MEDICA, held in Düsseldorf, where, for the ninth time, Fresenius held a forum for 20 selected researchers and developers to present their work. Four of the most ingenious inventions were awarded the Fresenius Inventors' Prize 2006.

The top Fresenius prize, along with €5,000, went to Professors Jürgen Kempf, Christian Hook and Georg Scharfenberg, of the Regensburg Technical College, and their colleagues Dr Bernhard Sick and Christian Gruber of Passau University.

The team had equipped a pen with sensors to record neuromuscular activity of the hand. Within the pen, the refined sensors record tilt, position and movements of the pen's tip, as well as the pressure applied to the tip and the fingers that grip the pen. Hand movements are a key guide to neuromuscular activity, so data provided by the sensor pen could prove very useful in the diagnosis of diseases such as Parkinson's, schizophrenia, or stroke.

'Additionally, neuromuscular activity highlights the impact of medication dosages, or their side effects from medications' reveals drug use or reflect stressful situations,' Professor Jürgen Kempf explained. The sensor pen is now undergoing tests in various clinics and laboratories.
Two orthopaedic surgical instruments that can remove worn implants in hip or knee joints with less bone damage, developed by Dr Michael Arnhold, who works in orthopaedics at the Rudolf Elle Hospital, Eisenberg, Germany, won him the second prize of €3,000. Few implant makers deal with the removal of worn implants, he said. His universal removal tool for hip and knee joint replacements either supports itself, or is attached directly to the implants to provide better use of force during removal. Dr Arnhold has applied for the patent.

The third award was shared by two inventors: university lecturer Dr Christoph Suschek, of the University Hospital Aachen, for a nitrogen monoxide machine, and Bernd Riedmüller, from Aalen, Germany, for his cold-light source that illuminates the wrists of newborns. Each receives €2,000. Dr Suschek's invention could dramatically reduce costs for medical procedures that use nitrogen monoxide during acute lung failure or in newborns with breathing difficulties, because it can expand vessels even at low dosages. According to Dr. Suschek, the normal daily dosage for a child can cost as much as ¤3,500, but his device can produce the same amount for less than ¤1. He described the procedure as simple, and said it delivers gas with a high level of purity. As for the expense, It wouldn't only help to save money, but also make nitrogen monoxide treatment possible in non-specialist clinics and even doctor's surgeries.

Bernd Riedmüller's invention, the intensive cold-light source, enables tiny arteries to be picked out for needle insertion, in order to continuously monitor the blood pressure of newborn and premature babies in intensive care, for example.

Exhibitors not awarded prizes had nonetheless presented impressive innovations, particularly for those with physical disabilities. The slide mobile, SLIMO, for example, is a comfortable and variable device for wheelchair users; it protects from rain and also ensures more safety in traffic due to a clear-view roof.

With his text input aid for those with little mobility (e.g. ALS patients), Tobias Denninger demonstrated a system that allows them easier communication. Patients can control their thoughts in a way that, via electrodes, they can prompt single letters to appear on a monitor. The principle is not new but the system, based on a colour-coded letter-matrix, is relatively easy to use.

* The international healthcare group Fresenius provides products and services for dialysis, hospital and the ambulatory medical care.