Article • 3D & CHD
The changing face of imaging in cardiology
While the question is still debated as to whether MRI is the better CT, along comes a potential game changer – a new data based 3-D reconstruction method of heart anatomy and function that aims to replace diagnostic coronary angiography. In the near future not only adult patients with coronary heart disease could benefit from this new technique but also children with complex congenital heart defects. Meanwhile imaging is conquering the cardiac operating room (OR).
Report: Emilie Hofstetter
Long before coronary heart disease (CHD) manifests its presence on an ECG, CT and MRI can detect it due to low perfusion caused by a stenosis of the coronary vessels. Dr Bettina Baessler, radiologist and researcher at the University Hospital Cologne, Germany, looks into multiparametric imaging strategies. She considers both techniques complement one another although MRI definitely produces images that are 'more beautiful, almost works of art'.
Professor Ulf Teichgräber, Head of Radiology at University Hospital Jena, Germany, agrees and thus predicts the demise of cardiac angiography. His opinion is corroborated by the recently completed SYNTAX III study, whose results will be presented at the Transcatheter Cardiovascular Therapeutics Symposium 2018 in San Diego in September. A team comprised of a radiologist, cardiologist and surgeon (Heart Team A) evaluated the angiogram of a patient, calculated the SYNTAX II score and decided on the type of therapy, either invasive or non-invasive.
The team members then saw the multislice CT (MSCT) scan with 3-D reconstructed coronary vessels and the relevant fractional flow reserve (FFRCT) and could either confirm or revise their decision. A second team (Heart Team B) of those professionals received CT and FFRCT of the same patient first. The team members calculated the Syntax III score, decided on the type of therapy and then saw the angiogram in order to either confirm or revise their decision. 'The Syntax score was designed to inform the decision "invasive or non-invasive", based exclusively on anatomical features,' Teichgräber explained. 'Syntax II took comorbidities into account and now Syntax III includes a functional component – FFRCT. Thus coronary angiography will lose importance in diagnostics and therapy planning.'
Non-invasive first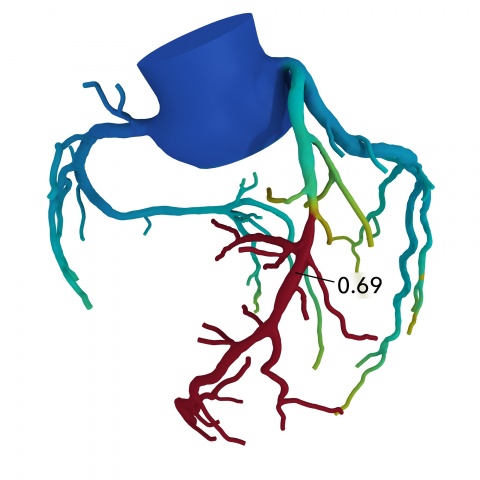 To date, only the California-based HeartFlow Inc. can calculate FFRCT. Based on data obtained in a conventional CT, the company's software, using flow mechanics, can reconstruct heart, aorta and coronary vessels in terms of geometrics as well as pathophysiology and function in 3-D. Moreover it visualises the flow and can thus show whether a haemodynamically relevant blockage is present, i.e. whether the patient needs a stent or a bypass.
In 2015, Professor Pamela S Douglas, cardiologist and Head of Multimodal Imaging at the Duke Clinical Research Institute in Durham, North Carolina, USA, showed the potential benefit of this method using 584 patient cases from 11 hospitals. Ten patients with suspected CHD underwent diagnostic cardiac catheterisation, but the suspicion was confirmed only in three patients – seven underwent unnecessary catheterization. Six out of ten patients with suspected CHD, whose FFRCT was determined first, did not need angiography. In three out of the four patients who did receive angio, the suspicion was confirmed – i.e. only one patient underwent an unnecessary angiography. 'This feasible and safe method shows a significantly lower rate of unnecessary invasive angiographies,' Douglas confirmed. Investors seem to buy in: HeartFlow, which today is already cooperating with the Big Three – GE, Siemens, Philips – recently raised USD 240 million to further develop the technology, launch new studies and drive commercialisation of its product.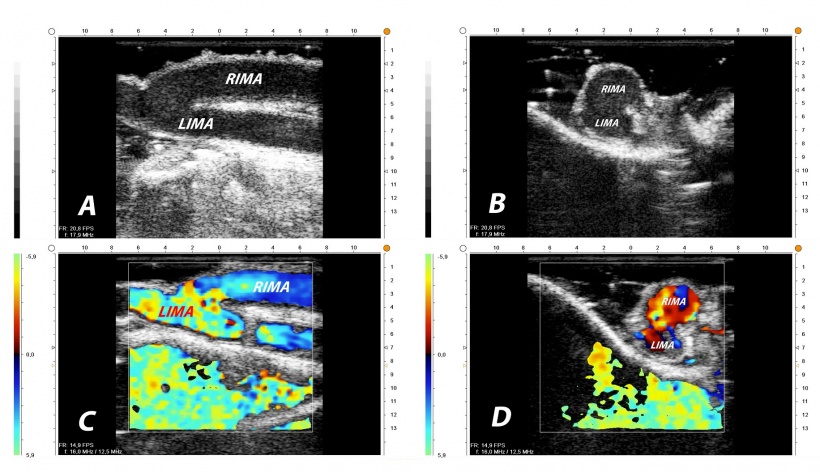 Courtesy: G. Di Giammarco
Our heart beats in 3-D, so why not examine it in 3-D?

Sandy Engelhardt
To establish 3-D imaging in congenital heart disease treatment, paediatric cardiologists Animesh Tandoon and Tarique Hussein founded VARYFII Imaging, LLC, in Dallas, USA. They construct complex anatomical models of the individual patient's pathologies using MRI or CT data. Cardiologists as well as surgeons can enter the virtual and augmented realities of the anatomical models with the help of data headsets to lift certain structures, analyse and reposition them and thus devise the best strategy to correct the heart defect prior to surgical intervention. 'Our heart beats in 3-D, so why not examine it in 3-D?' asks Dr Sandy Engelhardt, researcher at the Computer-Assisted Surgery Group at the Department of Simulation and Graphics in Otto von Guericke University, Germany. In addition to treatment planning and education she envisages a further application of this new technology: informing the parents of the young patients.
The flow must continue
Imaging has arrived in cardiac surgery – during the intervention itself and combined with flow measurements. Professor Gabriele Di Giammarco, cardiac surgeon at Gabriele D'Annunzio University Hospital in Chieti, Italy, considers the combination of high-frequency epicardial ultrasound (ECUS) and transit time flow measurement (TTFM) in a single device 'decision making' and explains: 'Hard calcifications in the aorta, I can feel. I do not feel the dangerous soft plaques. With MiraQ, I see them in intraoperative ultrasound, can adapt my strategy and perform surgery in no-touch technique and off-pump.'
Dr Daniel Wendt, Managing Senior Physician at the Cardiac Surgery Department of University Hospital Essen, Germany, uses intraoperative flow measurement of newly created bypasses not only for quality assurance purposes – he records a follow-up intervention rate of slightly below three percent – but also for training purposes: 'It's a tool to improve your skills, helps flattening the learning curve.'
The combination of risk minimisation and quality assurance has proved successful. In 2017, the Oslo-based manufacturer Medistim sold products and procedures worth NOK 229.8 million, up 14.6 percent over the previous year – another chapter in the success story of surgical intervention in CHD patients.