The 92nd Congress of the German Röntgen Society
And 6th joint congress with the Austrian Röntgen Society

Hamburg, Germany

Stroke, breast cancer detection, sports medicine – the clinical programme is an impressive illustration of this year's congress theme: Radiology is diversity. Florian Schneider asked the joint congress Presidents, Professor Bernd Hamm (Berlin) and Professor Walter Hruby (Vienna) to highlight the major topics at this, the largest medical imaging event (attendance around 7,000) in the German-speaking countries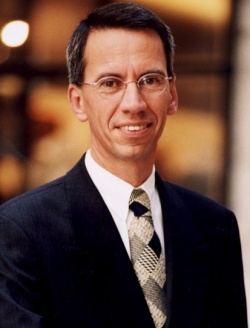 'Diversity,' said Prof. Bernd Hamm, explaining the congress theme, 'is evident on many levels -- the diversity of the medical areas, from diagnostics to therapy, and also the diversity of radiological tasks, be it in a hospital or a radiologist's office. There is also the diversity of professional options, not only because radiology is well suited for part-time arrangements and is thus exceptionally family-friendly.'
'Our medical discipline,' added Prof. Walter Hruby, 'is one of the very few that can justifiably be called a whole body discipline, a discipline that looks at disease in a holistic way. It usually is able to either confirm or exclude an initial diagnosis and thus strongly influences therapy decisions as well as the course of the therapy itself.'
For Prof. Hruby, the congress itself, just like medical development, 'is a dynamic process and encompasses a wide range of topics, from neuroradiology to interventional radiology, which avoids major invasive surgery and is equal, if not superior, to traditional invasive surgery.'
Event highlights, for Prof. Hamm: 'Within neuroradiology, we are currently debating new diagnostic options offered by higher magnet field strengths, which can improve stroke diagnostics, for example. We obtain more precise information on the areas that were affected by the stroke and on the severity of the stroke. That means imaging helps us to decide which areas we should focus on in order to preserve their function.
'Breast cancer detection is another issue: We will talk about quality assurance in mammography-based diagnostics. However, we also need to determine which method will replace X-ray mammography for screening purposes. In the medium term MRI mammography without the administration of contrast media looks rather promising.
'Radiation protection is also an ongoing debate. Forty percent of radiation exposure is generated in computed tomography. We know that and we continuously strive to reduce exposure further. We would like, for example, to reduce the dose of a cardiac CT to the level of a conventional chest X-ray image.
'Last, but not least, we chose sports medicine as a focus. We don't want to limit this issue to joints, but look at the implications of the fitness movement. For example, several studies indicate that many marathon runners experienced undetected myocardial infarctions that can, however, be seen in MRI. These athletes require specific medical care to make sure they can continue to perform their sport.'
Prof. Hruby: 'Radiology can help the athlete to adapt the training – the physical stress – to his or her physiological make-up. Imagine you want to intensify your exercise, but had a knee problem some time ago. MRI detects minute lesions in the cartilage and allows us to decide the degree of exercise the body will tolerate. The same holds true, as Dr Hamm pointed out, for the cardiovascular system.'
Prof. Hamm: 'I'd also like to mention another major topic in the programme: tumour ablation. In this minimally invasive and image-guided therapy, tumours are destroyed with the help of heat, ice or radio waves. Tumour ablation is increasingly the therapy of choice when a tumour can't be removed surgically, or when chemotherapy is not advisable.
Medical-technical radiology assistants (MTRAs) are increasingly interested in the Röntgen Society's annual Congress. What highlights does this year's programme provide for them?
Prof. Hamm: 'The MTRA programme at the congress has been very successful for many years. The division of labour between the radiologist – a physician by training – and the MTRA is very important for the successful performance of an examination – above all regarding radiation protection. Our programme reflects this fact. This year, we offer session for novices and advanced MTRAs and, as usual, clinical sessions such as 'Tinnitus diagnosis and therapy', because MTRAs are not merely technically oriented, but also have received basic medical training.
Prof. Hruby: It's important for MTRAs to understand the basics of the aetiology and physiology of diseases. The MTRA training sessions at the congress combine technical knowledge, including documentation and medical knowledge. It is this fusion that makes our MTRA programme so successful.
Finally, asked why the congress has moved from Berlin to Hamburg, Prof. Hamm said: 'We're interested in fresh impulses – certainly regarding our medical discipline, but also regarding our environment. Hamburg is a metropolis with maritime flair and promises to be a very inspiring location. Also, in early June, we even stand a chance that the weather will be fine!
Details: www.drg.de