Telemed for ophthalmology
O-PACS, the first integrated Digital PACS solution and Electronic Medical Record (EMR) developed specifically for ophthalmology, heralds a new era of tele-ophthalmology and could save the sight of thousands of Type II diabetics, says the system's maker ComMedica, of Woking, UK.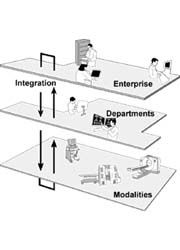 At a new 'reading room' in the Doheny Retina Institute, LA, California (which collaborated in the system's development), ophthalmic experts receive, for example, images of the fundus (back of the eye) from all over the United States. The specialists can then share and make diagnoses from the vascular network, directly and non-invasively. Conditions such as Type II diabetes mellitus can be detected 8-10 years before they would otherwise be diagnosed, allowing much earlier treatment, ComMedica reports.

For hospitals with existing electronic record systems, O-PACS modules (Image Capture, Integrated Patient Record, Eye Consultation workflow and Ophthalmic DICOM Image Viewer) can be installed on a server as a complete package, or individually. The Image Importer compresses 15MB fundus images to 350K. When a thumbnail image is opened in Image Viewer, the image is automatically decompressed to original size and detail, with full diagnostic quality. O-PACS offers full colour manipulation of those images due to integration of 16 chapters of the standard DICOM image library.

ComMedica was spun out of Imperial College, London, just four years ago, to commercialise clinical information systems (CIS). In 2001 Professor Richard Kitney, who led the development team, received an OBE for his services to IT in healthcare. ComMedica won the 'Best Software Innovation' category of the Wall Street Journal Europe's European Innovation Awards 2002.