TAVI rises another step in the United Kingdom
A hospital with a reputation for trailblazing heart surgery has taken transcatheter aortic valve implantation (TAVI) onto the next step in the UK.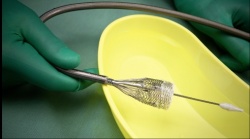 Led by Head of Cardiology Dr Jan Kovac, the team at Leicester's Glenfield Hospital repaired a dysfunctional heart valve by using the Lotus Valve System to treat aortic stenosis in an 84-year-old patient who did not require general anaesthesia and was fully conscious throughout the operation.
The Lotus Valve System, an implant measuring 23mm, offered the surgeons improved control of the valve throughout the procedure, enabling increased precision and the ability to reposition or retrieve the valve, even after insertion if necessary.
Developed and produced by medical solutions company, Boston Scientific, the Lotus Valve System also employs an Adaptive Seal feature, designed to minimise the Paravalvular Leakage (PVL), a complication associated with implantation of a prosthetic heart valve and one of the main causes of death in heart valve replacement procedures.
Dr Kovac said: 'This new generation of keyhole surgery further expands options for future patients. Until recently, there were very limited options to help people with this life-limiting condition who were considered inoperable or too high risk for cardiac surgery.
'Features of this current Lotus release make it a potential step forward in precision and elimination of regurgitation, potentially enabling more patients to be treated under local anaesthesia.'
Aortic stenosis, in which thickening and stiffening in a heart valve prevents it from opening and closing properly, affects around 3% of the population over the age of 65 and 5% of people older than 75 years.
The procedure was carried out by percutaneous transfemoral access to place an 18 stent, using a 6F catheter and temporary pacing wire with balloon aortic valvuloplasty, followed by a TAVI implant.
Dr Kovac added: 'This is further recognition of the work done by the pioneering cardiac team at Glenfield Hospital. We are now into our eighth year of the TAVI programme and the first UK TAVI patient is still fine, seven years after implant, which itself is remarkable.'
The Leicester programme is constantly evolving as Dr Kovac's team endeavour to tailor treatment to individual patients with as many as possible having the least invasive procedures. 'We are constantly looking for newer designs coming to mainstream,' he said. 'The Lotus release was chosen with these in mind as initial data suggested very good sealing, non-disruption of cardiac output during implant and the option of repetitive repositioning.'
Jane Healy, vice president of Medical Affairs at Boston Scientific, added: 'The Lotus Valve System offers a unique and effective new treatment alternative for patients with severe aortic stenosis at high risk with surgical valve replacement. This is the first commercial implant of the valve in the UK, following our CE mark approval in October 2013.'
The repair of a dysfunctional heart valve by using the Lotus Valve System to treat aortic stenosis sits among a line of surgical 'firsts' for the Glenfield unit, which treats local patients as well as those from muchfurther afield. Others have included the congenital interventional team performing the first closure of septal defects in 1996, the EP team pioneering robotic AF ablation, and Dr Kovac's first TAVI in the UK in 2007, the first of several hundreds providing better functional effect and long-term outcome along with shorter hospital stays.
Profile:
Dr Jan Kovac is Head of Cardiology at Glenfield Hospital in Leicester. He arrived in the United Kingdom 20 years ago to pursue a career in innovative medicine and subsequently gained a reputation for conducting 'UK firsts'. He was named the NHS Innovator of the Year in 2009 for his role in bringing TAVI into NHS/UK and being one of the worldwide pioneers in the field. Dr Kovac's unit is involved in generic trials to compare moderate risk patient outcomes between surgical replacement and TAVI – now an integral part of Glenfield's cardiac service – in an initiative simply named UKTAVI.