System change - From imaging plate to digital radiographs
Patients attending a radiology practice in Demmin, Germany, benefit from state-of-the-art ultrasound, mammography, X-ray, CT and MRI technology. Owned by Drs Uwe Kairies and Frank Rosenbaum, the practice has also introduced a RIS/PACS. Soon after the latter installation they switched from imaging plates, replacing their entire X-ray system with a new, direct digital radiology system with two Varian 4336R GadOx flat panels.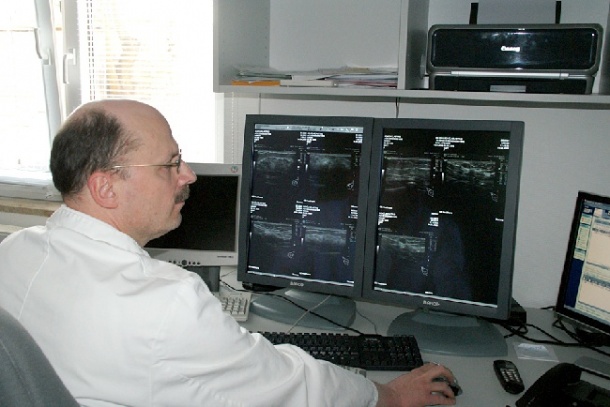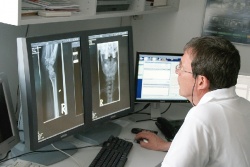 OR Technology supplied the dicomPACS DX-R console with a 19-inch touchscreen monitor, generator control, AEC and APR. The installation and application of the digital components, including the generator control, were also conducted by OR Technology.
'Our new X-ray system has proved successful not only because of its very high imaging speed, but also in terms of the quality of image details,' Dr Kairies observed. Having worked with a CR system for many years, the partners have considerable experience in evaluating the quality of digital images. Their expectations for the new DR system were correspondingly high. 'The quality of the X-ray images of our new system has completely convinced us,' they agreed. 'They have a very high dynamic range, i.e. we can view soft parts and bones simultaneously.'
Radiographer Gundula Arndt added: 'My colleagues and I are extremely satisfied with the process of X-ray imaging. We can control the entire X-ray system via the touchscreen monitor. The design of the graphics interface is very clear and precise.' The handling of the X-ray acquisition software dicomPACS DX-R and integrated radiographic positioning guide also contribute to quality assurance in the practice. It provides the correct adjustments for each examination as well as examples and videos.

OR Technology points out that consistent image quality from the dicomPACS DX-R image processing technology forms the basis for an accelerated and smooth workflow in this radiology practice.
Details: www.or-technology.com