Surgeons demand the best. Sony delivers it.
For a surgeon to perform at their peak, they need the highest quality equipment. For this reason, Sony developed the PVM-2551MD 24.5" monitor.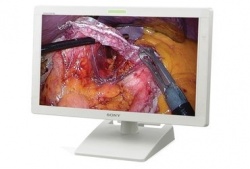 It is the first of its kind in the medical field that harnesses the many benefits of Sony's unique Super Top Emission OLED technology.
It suits a range of medical applications, particularly flexible and rigid endoscopy and surgical microscopy operations, such as tissue differentiation, which require maximum resolution and precision in image reproduction. In combination with modern HD endoscopy cameras, users can recognise even the smallest details, such as in screening for early indications of cancer, in detecting flat lesions, or in differentiating tumours.
Other features include the revolutionary TRIMASTER EL technology which maximises the performance of the flat-screen display helping it achieve an outstanding image performance, a wide colour scale, and an outstanding black level. It also has improved contrast and exact colour reproduction features that produce the smallest details true to life.
Sony Medical's OLED PVM monitor has full HD resolution (1,920 x 1,080 pixels) with 10-bit signal processing for accurate colour management. It supports several colour standards and delivers optimal colour reproduction in natural colour shades. The monitor is also housed in a lightweight white casing so it fits right into a medical environment. Through Sony's PrimeSupport, a fast, hassle-free repair service and helpline, users can rest assured that they've not only got the best equipment, but that Sony is looking after it.
The PVM-2551MD is the current culmination of the best features of Sony's professional display technology and outperforms any other monitor in the market. See your nearest stockist or visit www.pro.sony.eu/medical for more information.