Sponsored • Health IT solutions for the coronavirus pandemic
#StrongerTogether against COVID-19
To deal with the COVID-19 outbreak, the continuity of the radiology reporting activities is crucial. To guarantee this, care providers are expanding the remote reporting capabilities for their radiology teams.
As part of their #StrongerTogether campaign, Agfa HealthCare demonstrates how remote and home reporting solutions can keep imaging workflows going across quarantine lines.
"As a healthcare IT partner, we are deeply committed to support our clients and the communities they serve, while coping with the evolving COVID-19 challenge", the company states.
"Over the past few weeks, together with clients all over the globe, we have been working to support hospitals in the fight against the COVID-19 outbreak. From supporting the set-up of remote reporting capabilities to configuring special radiology worklists, dedicated to COVID-19 cases. By sharing the customer cases we encounter and the configurations we're setting up, we hope to be of help."
Remote and Home Reporting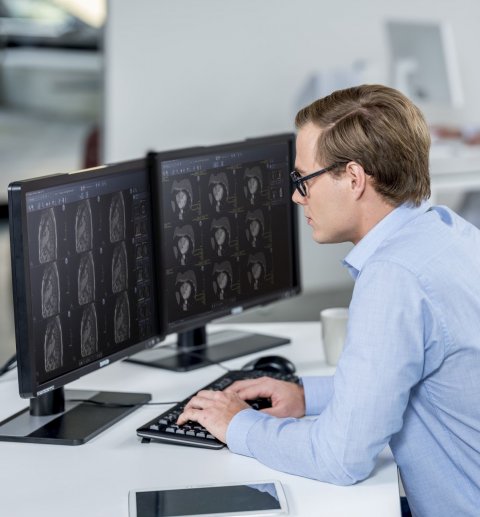 In Ireland one of the company's Clinical Application Specialists was approached by a Radiologist who was concerned about being able to work should the need to self-isolate arise.
The hospital already had a VPN connection available as well as spare hardware, and within 20 minutes of assembling the spare clinical review workstation and a clinical monitor the radiologist was able to log in, use his own profile from the hospital and report in his own home, including full speech recognition, with images instantly available over a normal broadband connection.
To facilitate the set-up or expansion of remote reporting capabilities and provide full home-office capabilities, we've been organising:
Virtual meetings with a number of customers to guide them through the remote set-up. When they have a VPN connection to the hospital (which is mandatory), it usually takes less than 1 hour to set up.
For more on remote reporting: click here
Real-time collaboration across quarantine-lines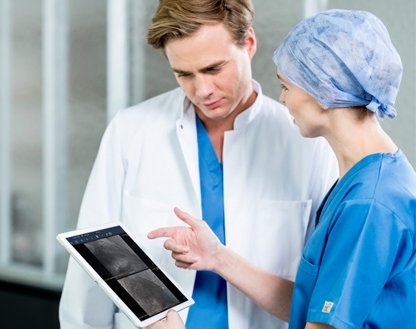 During these challenging times efficient collaboration between care givers is more crucial than ever. To support this, several sites in the United Kingdom have recently enabled and added the XERO Viewer chat & share functionality to their Enterprise Imaging platform.
The functionality allows to securely view, review and share the studies. With the screen sharing feature colleagues can also review and collaborate on a study, in real-time, across quarantine lines.
In XERO Viewer, with the study open, it just takes a click on the "Share" button in the chat window to send the study to a colleague for review and real-time collaboration.
For more on the XERO Viewer chat & share functionality, please reach out to your local Agfa HealthCare contact person.

Balance the load – Image sharing across hospital networks and regions
In many countries, the COVID-19 outbreak requires the collaboration and image sharing across hospitals, hospital networks and geographical regions. Some hospitals are centralizing triage of patients and depending on the case severity patients are sent for admission to different hospitals. Others are looking to balance the bed capacity and load with hospitals inside or outside their network.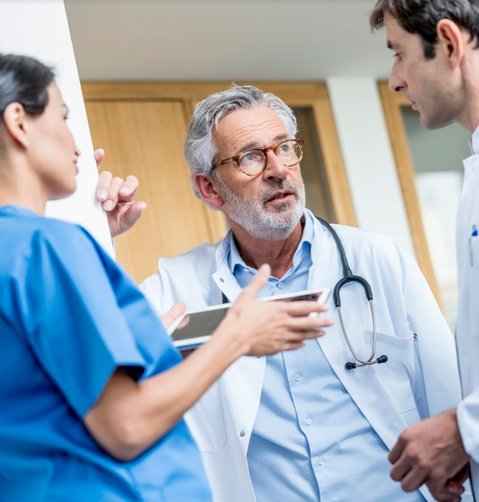 With this growing need to collaborate across hospitals and geographical regions, timely and convenient sharing and transfer of imaging data is a must. In the United Kingdom Agfa HealthCare is supporting customers balancing the COVID-19 load by connecting different sites, using the XERO Exchange technology. They can view, share DICOM images and reports stored within the Enterprise Imaging for Radiology solutions. Based on hospital request, patient history can be shared as well.
More on this initiative: XERO Exchange Technology LIVE across 7 NHS Trusts, and the NHS Nightingale Hospital Yorkshire and the Humber
In the Netherlands a nationally deployed COVID-19 portal solution has been introduced. Here, the company is supporting customers in making DICOM images easily and efficiently available for other hospitals. This way, after triage, all the patient's imaging information is shared securely with the receiving care team, so they can prepare to treat the patient quickly upon arrival.
For more on XERO Image Exchange, please reach out to your local Agfa HealthCare contact person.
More on the subject:
More on companies: