Users first
SonoSite wins Silver in Design Award
FUJIFILM SonoSite has been named a Silver winner in the 36th Annual International Design Excellence Awards (IDEA) announced by the Industrial Designers Society of America (IDSA). SonoSite's SII Ultrasound Machine is among more than 1,700 projects from 30-plus countries that competed in IDEA 2016.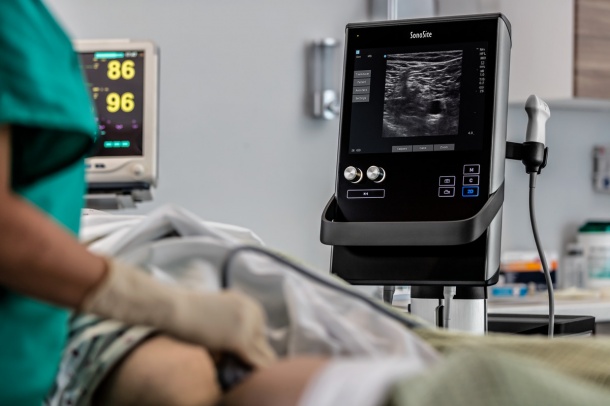 "We're extremely excited to have won the Silver at IDEA 2016," said Craig Chamberlin, Director of Experience Design, FUJIFILM SonoSite Inc. "This award demonstrates that we achieved our design goals of creating a mountable ultrasound system that is functional, efficient, and provides a great user experience."
Developed for regional anesthesia, vascular access and trauma applications, the SonoSite SII empowers efficiency for clinicians through a simple, yet intelligent interface that adapts to the user's imaging needs. The system is portable and appropriate for multiple hospital environments, including a zero footprint option for space-constrained rooms."At the end of the day, SonoSite is helping physicians treat any patient, anywhere, anytime," said Ben Dekock, Industrial Designer, FUJIFILM SonoSite Inc. "We take that to heart and our team put a ton of work into creating a design that puts our users first."
Jury Chair Cameron Campbell, IDSA, led a team of global design experts to judge more than 600 finalists from June 3 to 6 at the iconic Henry Ford Museum in Dearborn, MI. IDSA announced 63 Bronze winners on July 1. Then on August 17 in a grand IDEA 2016 Ceremony at The Henry Ford— 26 Gold and 47 Silver were honored. "IDEA has an incredible legacy of establishing the best in international design," says Campbell.
IDEA 2016 winners span a wide range of 21 categories such as social impact; medical and scientific innovations; transportation; home and garden; office; personal accessories; children's products; sporting goods; and much more. IDSA Board of Directors Chair John Barratt—himself a former IDEA jury chair—hails the competition as "the authority on design"—showcasing new designs in products that are used every day, and products featuring first-of-a-kind innovations.
To learn more about the SII Ultrasound System or for more information about FUJIFILM SonoSite, Inc. please visit: www.sonosite.com/uk/product/sonosite-sii.

About the SonoSite SII
The SonoSite SII features a new touchscreen user interface with a clinician-driven menu logic that adaptively adjusts to the use case– "what you need, is what you see". An embedded dual transducer connector also allows quick switching between transducers with two simple taps of the screen, ensuring that the right transducer is always readily available. To further accelerate end-to-end workflow, the SII comes with a new stand, offering elevated transducer holders and additional storage, all while minimizing footprint. The SonoSite SII transforms the pace of patient care for proceduralists or those clinicians requiring a quick answer at a critical moment.
About Fujifilm
FUJIFILM SonoSite, Inc. is the innovator and world leader in bedside and point-of-care ultrasound, and an industry leader in ultra high-frequency micro-ultrasound technology. Headquartered near Seattle, the company is represented by 26 subsidiaries and a global distribution network in over 100 countries. SonoSite's portable, compact systems are expanding the use of ultrasound across the clinical spectrum by cost-effectively bringing high-performance ultrasound to the point of patient care. For more information, go to: www.sonosite.com.
FUJIFILM Holdings Corporation, Tokyo, Japan brings continuous innovation and leading-edge products to a broad spectrum of industries, including: healthcare, with medical systems, pharmaceuticals and cosmetics; graphic systems; highly functional materials, such as flat panel display materials; optical devices, such as broadcast and cinema lenses; digital imaging; and document products. These are based on a vast portfolio of chemical, mechanical, optical, electronic, software and production technologies. In the year ended March 31, 2016, the company had global revenues of $22.1 billion, at an exchange rate of 112.54 yen to the dollar. Fujifilm is committed to environmental stewardship and good corporate citizenship. For more information, please visit: www.fujifilmholdings.com.
About IDSA
Founded in 1965, the nonprofit IDSA is one of the oldest and largest membership associations for industrial design professionals, with thousands of members in dozens of Professional Chapters, Student Chapters and Special Interest Sections in the United States and internationally. IDSA sponsors IDEA®, the world's most prestigious and rigorous design competition. The Society hosts events including an annual International Design Conference, five District Design Conferences and a Medical Design Conference—bringing together some of the biggest names and brightest minds in industrial design and related fields. Global outreach includes design Update and designBytes e-newsletters; INNOVATION magazine; and the Yearbook of Design Excellence featuring IDEA, IDSA Award and Student Merit Award winners. IDSA Ambassadors support and promote industrial design with research and thought leadership.
More on the subject:
More on companies: