Charity
SonoSite supports Help in Motion mobile hospitals
German charity Help in Motion has equipped its two new mobile hospital vehicles with robust and portable NanoMaxx® point-of-care ultrasound systems from SonoSite. The charity was founded by entrepreneur Ralph Mueller to provide healthcare to deprived populations in Germany and overseas.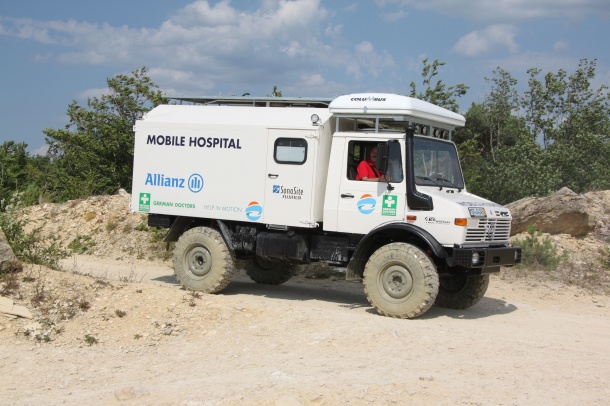 Herr Mueller explained: "I've travelled extensively around the world and have always tried to make sure I see the real country, as well as the landmarks and luxury of the tourist trail. I have seen so many people with limited or no access to the most basic healthcare facilities – no doctors, medicine, or money to pay for any care if it exists. Five years ago I decided it was time I used my experience and good fortune to help people in desperate circumstances that could so easily be remedied."
The foundation has recently launched two off-road vehicles, carrying state-of-the-art medical equipment and basic medication, and staffed by volunteers from the well-established charity German Doctors. The Mercedes-Benz Unimogs took nine months to plan and construct, and include water treatment units, a power generator and a chemical toilet, as well as robust, portable laboratory and medical instruments, such as the point-of-care ultrasound systems. Mr Mueller said: "Our doctors often have to treat people in challenging conditions, with no proper roads, mountainous terrain and severe floods. The Unimogs will be able to cope with these difficulties and provide treatment rooms, giving our patients much-appreciated privacy. The ultrasound systems are also ideal for this kind of environment, where technology has to be robust and able to cope with humidity and dust. These devices will make a tremendous difference to what our doctors can achieve, giving them extra confidence in what they are diagnosing. We recently held a workshop to introduce the vehicles to 60 doctors and the ultrasound systems were very well received; the doctors were impressed and looking forward to using them in the field."
Overseas trips so far have included the Philippines, where many of the poorer indigenous population have very little access to healthcare, and Sierra Leone in the recent Ebola crisis. Herr Müller said: "We aim to provide free medical examinations, basic care and minor surgery wherever we can. However, it is very important that everything we do has the support and approval of the local population and existing healthcare system in that region. Similarly, we are working towards liaising with community and welfare services in Germany, where we plan to offer the same services to homeless populations in the larger cities."
The foundation plans to introduce two more fully-equipped Unimogs every year, with the aim of eventually leaving the vehicles permanently in territories with the greatest need. Herr Müller concluded: "We look forward to seeing how the new mobile hospitals help our doctors to treat disadvantaged people around the world, and thank sponsors like SonoSite for the support they have given to the project."

For more information about FUJIFILM SonoSite products, go to erafsales@sonosite.com.
About FUJIFILM SonoSite, Inc.
SonoSite helped pioneer the concept of portable, point-of-care ultrasound, and it continues to be a world-leading manufacturer and innovator of bedside ultrasound systems as well as an industry leader in ultra high-frequency micro-ultrasound technology. Headquartered near Seattle, the company is represented by 26 subsidiaries and a global distribution network in over 100 countries. SonoSite's portable, compact systems are expanding the use of ultrasound across the clinical spectrum by cost-effectively bringing high-performance ultrasound to the point of patient care. For more information, go to: www.sonosite.com/de.
FUJIFILM Holdings Corporation, Tokyo, Japan, brings continuous innovation and leading-edge products to a broad spectrum of industries, including electronic imaging, digital printing equipment, medical systems, life sciences, graphic arts, flat panel display materials, and office products, based on a vast portfolio of digital, optical, fine chemical and thin film coating technologies. Fujifilm is committed to environmental stewardship and good corporate citizenship. For more information, please visit www.fujifilmholdings.com.
More on the subject:
More on companies: