Sonosite
SonoSite's NanoMaxx® ideal for paediatric retrievals in remote areas
SonoSite's NanoMaxx® ultrasound system is proving a key asset for ambulance and helicopter paediatric retrievals across Scotland, helping to ensure the safe transfer of patients from remote, rural sites.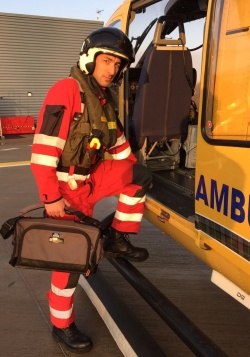 Jon McCormack, a Consultant in Paediatric Anaesthesia and Intensive Care Retrieval at the Royal Hospital for Sick Children, Edinburgh, explained: "The Paediatric Retrieval Service is responsible for the transport of critically ill and injured children across Scotland to the nearest paediatric intensive care unit, often from extremely isolated locations with no critical care facilities. While ultrasound equipment may be available, it is unlikely to be suitable for line placement in a baby or child, and so the Paediatric Retrieval Service invested in a NanoMaxx system that is taken to all call-outs."
For a retrieval service, portability, size and weight are important considerations. The system must also have a good battery life, as a retrieval can take several hours, during which time it may not be possible to charge the system. In addition, it should be easy to clean and water- wind- and drop-proof to a certain extent, as the system may be used both indoors and out, sometimes in extreme conditions. We've had the NanoMaxx for two or three years now, and it is ideal. It is very user friendly – just turn on and scan – allowing me to insert a line more rapidly and safely, with 100 % confidence that it is correctly placed."
For more information about FUJIFILM SonoSite products, please contact:
FUJIFILM SonoSite Ltd
T +44 (0)1462 341151,
About FUJIFILM SonoSite
SonoSite helped pioneer the concept of portable, point-of-care ultrasound, and it continues to be a world-leading manufacturer and innovator of bedside ultrasound systems as well as an industry leader in ultra-high frequency micro-ultrasound technology. Headquartered near Seattle, the company is represented by 26 subsidiaries and a global distribution network in over 100 countries. SonoSite's portable, compact systems are expanding the use of ultrasound across the clinical spectrum by cost-effectively bringing high-performance ultrasound to the point of patient care. For more information, go to: www.sonosite.com.
FUJIFILM SonoSite, Ltd., a wholly owned subsidiary of FUJIFILM SonoSite, Inc. oversees a direct sales distribution network in the UK and provides sales and marketing support.
FUJIFILM Holdings Corporation, Tokyo, Japan, brings continuous innovation and leading-edge products to a broad spectrum of industries, including electronic imaging, digital printing equipment, medical systems, life sciences, graphic arts, flat panel display materials, and office products, based on a vast portfolio of digital, optical, fine chemical and thin film coating technologies. Fujifilm is committed to environmental stewardship and good corporate citizenship. For more information, please visit www.fujifilmholdings.com.
More on the subject:
More on companies: