Behavioral seeding
Social networks may improve your health (or make it worse)
Besides being useful for keeping in contact with friends, relatives and business associates, social networks may even influence your health (and that of your friends) in surprising ways, as the research of Nicholas A. Christakis suggests.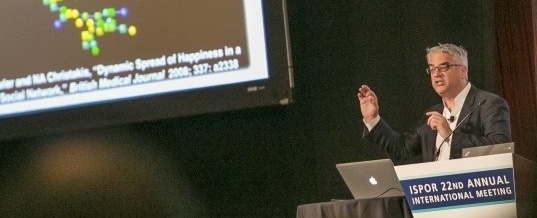 Dr. Christakis, MD, PhD, MPH, Sol Goldman Professor, Social and Natural Science, Co-Director, Yale Institute for Network Science, Yale University, provided an overview of his 20-years of research on social networks. His research includes the application of social network principles in order to change population-level behaviors in a variety of arenas, including health. Social network interventions could be used in a variety of areas in health care such as obesity, smoking cessation, pathogens, and medication choice. He noted that human beings have been embedding themselves in real social networks for thousands of years.
His early research examined obesity and social contagion, showing that clustering occurs and that information, disease, and emotion spreads to three-degrees of separation (e.g., revealing that your weight [whether you lose or gain weight] will actually affect the weight of your friends and your friends' friends). His other research focused on the impact of human emotions in the context of social networks, which found that emotions are also effected by social networks (e.g., happiness and anger also spread through social networks to three-degrees of separation). Through his research exploring altruism, Dr. Christakis found that the concept of "paying it forward" is real and spreads across people and across time.
An important concept that has emerged from this research is that a network functions like a "social magnifying glass." When these networks are "seeded" with specific behaviors or emotions (e.g., healthy or unhealthy behaviors, emotions, etc.), the information is spread and amplified throughout the network to transform the natural world. Additionally, research indicates that there is heritability of our network position, meaning it is literally "in our genes" that determines the people with whom we form these networks.
Source: International Society for Pharmacoeconomics and Outcomes Research (ISPOR)