Seamless patient monitoring throughout the hospital
Draeger´s new Infinity Acute Care System


Draeger Medical showcases its new component for the Infinity Acute Care System, the M540, at this years Medica. The system makes it possible to seamlessly monitor and record vital signs data while moving through the hospital. It is fully integrated with Infinity C700 or C500 Medical Cockpit, which display vital signs data together with networked clinical information.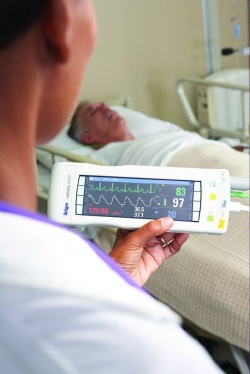 The objective of the companies newest solution is to support and improve hospital processes and procedures. The monitor remains with the patient throughout the care path: for example from the emergency room, through the perioperative area and to the intensive or intermediate care ward.
For Transport, the hospital staff can release the M540 from its docking station, using one hand. The monitor continues to display and record vital data without interruption. As soon as the "mobile" is reconnected to a docking station, which is the central control and viewing unit of the whole system.
Simple operation
To support hospital workflow, a compact monitor design and simple operation are also required. "In the daily clinical routine, it is important for staff and patients that devices are simple to operate", explains Prof. Jürgen Peters, Director of Clinic for Anesthesiology and Intensive Care at Essen University Hospital. "The less we have to concentrate on the technology, the more we can focus on the patient.
When the monitor is turned 180 degrees, the display rotates automatically so information is immediately readable again (auto-flip technology).